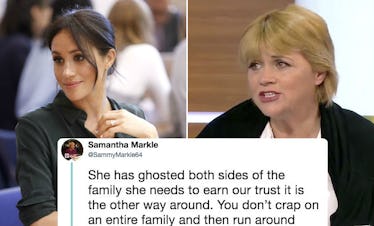 Samantha Markle Is Ranting About Meghan's Mom On Twitter, So That Truce Didn't Last Long
Chris Jackson/Getty Images Entertainment/Getty Images & YouTube
Samantha Markle is still mad, guys. Despite her public "apology," the half-sister to the Duchess of Sussex, Meghan Markle, isn't over her sibling's new life and she's determined to make sure you, me, and all of Twitter knows it. This time, she's bringing Meghan's mom, Doria Ragland, into it, too. Samantha Markle's tweets about Meghan Markle and Doria Ragland are scathing and I think I speak on behalf of everyone when I say: Samantha, can you chill out, please? Just let a royal live. Elite Daily reached out to Kensington Palace and Samantha's rep for comment on her tweets, but did not hear back by the time of publication.
In a nutshell, Markle appears to be on a mission to smear Meghan's good name once more. She's accused Meghan of everything from abandoning her family after her engagement to Prince Harry to blaming her for their father's future hypothetical death. In her latest Twitter rant, Markle accuses Meghan of ghosting her best friend, Nikki Priddy, and claims her mother, Doria Ragland, was "not around very much."
It's sad and exhausting to read. While I'm sure it's a PR headache for Meghan and Kensington Palace (not to mention just plain hurtful) it definitely comes across like Markle is grasping at straws, here. To put it bluntly: I just don't believe her.
Her latest rant started a few days ago at the end of September 2018 when she claimed Ragland wasn't in the picture for the bulk of Meghan's childhood. "Doria moved in with us when I was 14," she said.
According to Cosmopolitan, she also reportedly tweeted, "Doria might be her [Meghan's] best friend now because she ghosted her best friend of 30 years. Nikki Priddy," and, "Family issues like this exist because one member of ghosted both sides of the family and her best friend of 30 years. If it was your family you would say something too." These tweets have since been deleted.
For reference, Ninaki Priddy was Meghan's maid of honor at her first wedding to film producer Trevor Engelson. Priddy actually participated in an interview with The Daily Mail in which she painted a picture of happier times with Meghan and said, "The person I knew is not there anymore."
Oof.
Markle also responded to one commenter on Twitter saying, "You have no idea what is going on behind the scenes. She ignored my father through a heart attack there is no excuse for it. You would be mentally ill to think that is OK. Maybe you were the one who needs the counseling."
As part of an ongoing Twitter thread, Samantha also accused Meghan of "running around crying" that she can't trust anyone and claimed their father, Thomas Markle Sr., is "the best father in the world." She posted,
The world does not know that our dad raised her most of the time without the input of her mother especially from age 12 through high school and he gave her everything she had and is. She was never raised as an only child. Truth kids! He is amazing and successful,.and Mags lie.
Sam, give it a rest. What happened to the apology you gave on British TV literally three days ago?
Whether you like it or not, Samantha, your sis is the Duchess of Sussex now and she has an entire nation behind her.
Let's all agree to disagree, go to our respective corners, and have some calm-down tea.