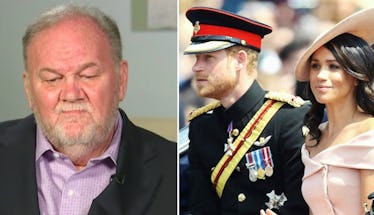 The Timeline Of Thomas & Samantha Markle's Feud With Meghan & Harry Is So Intense
CHRIS JACKSON/GETTY IMAGES/YOUTUBE
Celebrity relationships and friendships are a rare breed. These famous faces have their lives played out in front of the masses, whether it's the good, the bad, or the straight-up shady. In Elite Daily's new series, It's Complicated, we're highlighting the biggest celebrity "feuds" that took over Hollywood and dominated our Sunday brunches for weeks on end. We'll take a deep dive into the lives and social media feeds of our favorite stars and dissect what happened in front of the camera, what went down behind the scenes, and everything you might have missed in between.
The drama is real between Meghan Markle and her father, Thomas Markle, and half sister, Samantha Markle. I mean, the two have literally not stopped speaking their minds on social media and in the press since she became the Duchess of Sussex. Samantha even recently referred to Meghan as Cruella De Vil, and like OMG, what's your damage? Sadly for Meghan, her family has been pretty toxic (except her mom — all hail Doria!), and the whole thing has been pretty impossible to keep up with. So, here's a timeline of Thomas and Samantha Markle's feud with Meghan and Harry. Check it out and then get mad as bloody hell at these two all over again.
November 2016
Seemingly out of nowhere, Samantha reportedly accused Meghan of being narcissistic, selfish and a "shallow social climber" on Twitter.
"The Royal Family would be appalled by what she's done to her own family," she wrote, according to The Daily Mail. "The truth would kill her relationship with Prince Harry, he wouldn't want to date her anymore because it puts her in a bad public light."
Samantha has since made her account private, but there are still plenty of screenshots of her rants floating around.
April 2017
Samantha announced on Twitter that she is writing a tell-all book about growing up with Meghan called The Diary of Princess Pushy's Sister, and this totally sounds like it should be the name of a Mean Girls sequel starring Tina Fey.
December 2017
After Prince Harry referred to the royals as "the family Meghan never had," Samantha reportedly hit up Twitter yet again. "Actually she has a large family who were always there with her and for her," she wrote, according to The Independent. "No one was estranged, she was just too busy."
January 2018
Samantha reportedly took issue with the $75,000 Ralph & Russo gown Meghan wore for her engagement shoot. During an interview with In Touch, she called Meghan out for not helping Thomas with his financial troubles. "If you can spend $75,000 on a dress, you can spend $75,000 on your dad," she said.
February 2018
Meghan's brother, Thomas Jr., claimed to In Touch that he received no help from Meghan in light of all the media scrutiny surrounding him and his family. "There was a time where people were following me around at work, taking pictures and posting horrible stories about me and my family saying I'm a white supremacist, a drug addict and a dealer, all this crap that just isn't true," he reportedly said.
March 2018
Thomas Jr. reportedly failed to score a wedding invite.
April 2018
Samantha headed back to Twitter to reportedly tell Prince Harry to "man up" and stop letting his fiancée ignore her family.
"Shout outs about humanitarianism, don't work when you are allowing Meg to ignore the Markles," she reportedly wrote, according to The Standard. "It is contradiction. Someone must point out that the Emporer [sic] is not wearing any clothes."
May 14, 2018
The royal family had previously announced on May 4 that Meghan's parents would both play "important roles" in the ceremony. But then, on May 14, scandal erupted when Thomas admitted he accepted money to stage photographs for the paparazzi. He pulled out of the wedding, revealing that he had suffered a heart attack six days earlier.
May 15, 2018
The next day, Thomas told TMZ that he changed his mind and wanted to walk Meghan down the aisle, but that he had to undergo heart surgery on May 16, so he probably wouldn't be able to make it.
May 16, 2018
Samantha had a little chat of her own with TMZ about the fact that the Palace didn't want her talking to the press.
"There's something in this country known as free speech," she said in the video. "[Meghan] doesn't have a copyright on that and she's not going to tell me that I can't speak my own life or my father's where it's a matter of public self defence because the media is disparaging us."
May 17, 2018
Meghan confirmed through an official statement on Kensington Palace's Twitter that her father would not be attending the wedding. And, like, who can blame her?
May 22, 2018
Four days after Meghan and Harry's wedding, Samantha returned to Twitter to slam the bride for not mentioning Thomas in her toast. "So she didn't mention my dad and his shout out at the reception either?" she reportedly tweeted, according to The Standard. "I guess she ignored the bishop's sermon about love and forgiveness." She then reportedly compared the royal family to the Addams family "but with billions of dollars."
June 26, 2018
Thomas Markle told TMZ he was pissed the Queen was meeting with Trump and not him. "If the Queen is willing to meet our arrogant and insensitive president, she has no excuse not to meet me," he reportedly told TMZ. "I'm nowhere near as bad."
July 9, 2018
Samantha reportedly came up with a harsh nickname for the Duchess of Sussex and said Prince Harry should have married his ex Cressida Bonas instead.
"Harry is a wuss to allow the Duchess of Nonsense to mistreat everyone who has been close to her, especially her family," she tweeted, according to The Sun, tagging both Prince Harry and Kensington Palace in her post. "Diana would be ashamed. Stop wearing Meg's skivvies and bra and take your pants off of her!"
July 15, 2018
Thomas told The Sun he believes his daughter is miserable in her new role as a royal.
"My thing about my daughter right now is that I think she is terrified," he said. "I see it in her eyes, I see it in her face and I see it in her smile. I've seen her smile for years. I know her smile. I don't like the one I'm seeing now. This one isn't even a stage smile — this is a pained smile."
So pained.
July 18, 2018
Samantha then blasted the duchess for her "cold" behavior toward their father in — what else? — another rant on Twitter.
"My father is not an embarrassment for loving his daughter!" she reportedly wrote, according to The Sun. "The Royals are an embarrassment for being so cold. You should be ashamed of yourselves."
She then reportedly shared a link to an article about Meghan and Prince Harry making an official appearance at a London exhibition dedicated to Nelson Mandela. "How about you pay tribute to your own father?!" Samantha reportedly added. "Enough is enough. Act like a humanitarian act like a woman! If our father dies I'm holding you responsible, Meg!"
July 28, 2018
Thomas Markle told The Daily Mail he's hurt that the Palace cut him out of Meghan's life. "I used to have a phone number and text number for her personal aides at the Palace, but after I said a few critical words about the Royal Family changing Meghan, they cut me off," he reportedly explained. 'Those numbers were disconnected, they no longer work. I have no way of contacting my daughter."
August 4, 2018
On Meghan's birthday, Samantha apparently lashed out on Twitter once again, reportedly posting a link to an article about Harry and Meghan retreating from the spotlight.
"OK so Cruella Deville is retreating," she wrote, according to The Standard. "LOL let me know how that works out for you."
I don't know about you guys, but this whole thing is exhausting and sad, and I think it's pretty impressive that Meghan has managed to keep her mouth shut about all the drama despite her family's unwillingness to do the same. What will happen next is anyone's guess, but sadly, it doesn't look like there will be any kind of closure for these three anytime soon.