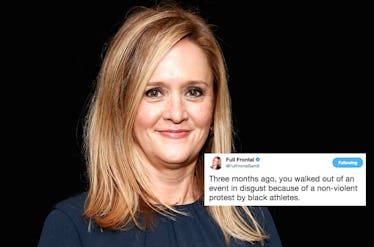 Samantha Bee Is Calling Out Politicians' Hypocritical MLK Tributes & It's Amazing
Every Martin Luther King Jr. Day, we see a slew of politicians tweeting tributes to the late activist. And every year, we see tributes from politicians that make us scratch our heads and ask the question, "Wait... what?" This year, people on Twitter are calling out the hypocrisy among politicians who say certain things about people of color, and then confusingly tweet their admiration of Dr. King every January. Full Frontal with Samantha Bee is the latest to do so. Samantha Bee called out Mike Pence and Paul Ryan's hypocritical MLK tributes on Twitter, and it's everything. And it wasn't just Pence and Ryan she called out, no. She also put Ted Cruz, Iowa congressman Steve King, Secretary of the Interior Ryan Zinke, and Sarah Huckabee Sanders on blast for their hypocritical tweets.
The Full Frontal account started off by quoting a tweet from Vice President Mike Pence that included pictures of him and his wife visiting the MLK memorial in D.C. Pence's tweet reads, "Honored to lay a wreath at MLK Jr. Memorial w/ @SecondLady. He was a great American leader who inspired a movement & transformed a Nation. He took the words of our Founders to heart to forge a more perfect union based on the notion all men are created equal & in the image of God."
Her tweet reads, "Three months ago, you walked out of an event in disgust because of a non-violent protest by black athletes." Obviously, all of these peaceful protests by NFL players during their games are moves taken directly from Martin Luther King Jr.'s books, so if Pence is against a display of peaceful protest during the National Anthem at football games, then his tweet honoring King is the definition of hypocritical.
Bee then moved on to Ted Cruz.
Bee's tweet calling Cruz out said, "You accused people peacefully protesting the murder of black men and women of "literally suggesting and embracing and celebrating the murder of police officers."
His MLK tribute tweet said, "Today we honor the life and legacy of Reverend Martin Luther King, Jr. Reverend King was a champion of the American creed: 'We hold these truths to be self-evident, that all men are created equal.'"
Next on this super fun trip down hypocrisy lane was Iowa congressman Steve King.
King tweeted, "Martin Luther King,Jr. this MLK Day, 'Ive been to the mountain top. And I've seen the promised land. ...we, as a people, will get to the promised land.'" Bee quoted his tweet and said, "One month ago you tweeted 'diversity is not our strength.'"
Then she came for Paul Ryan. This is honestly more entertaining than Netflix.
Ryan tweeted (let's be real, his staff and all of these other peoples' staff tweeted), "Today we remember a great man and his work. We read his sermons. We recall his sacrifices. We give back. In doing these things, we raise our gaze and renew the spirit in which we serve one another. Such is the calling of #MLKDay." Bee fired back, "You are making poor and middle class Americans pay for corporate tax cuts." Where is the lie?
Secretary of the Interior Ryan Zinke was one of the last people Full Frontal put on blast.
Zinke tweeted, "Today I joined Martin Luther King III, his family, and members of the Memorial Foundation on the @NationalMallNPS." Full Frontal tweeted, "You called removing Confederate statues a 'slippery slope' and referred to Native Americans as Native 'Indians' in the process."
And finally, Full Frontal called out Sarah Huckabee Sanders.
Sanders tweeted, "Twenty years ago as a student at Central High I watched President @BillClinton and my dad @GovMikeHuckabee open the doors for the Little Rock Nine - the same doors that had previously been closed to them because they were black. A moment I'll never forget. #MLKDay." Full Frontal's tweet said, "You defended your boss's racist 'Pocahontas' comment."
All of these tweets are clearly intended to point out the inconsistencies in these peoples' "admiration" for people who fight for civil rights and racial justice. It's pretty backwards for say, Mike Pence, to say that the actions and leadership of Martin Luther King Jr. are admirable when just months ago he publicly shamed black men for doing exactly what King taught them.
Lots of people on Twitter are doing the same as Bee and Full Frontal.
On days like today, when we're supposed to be remembering and honoring the legacy of the leader of the Civil Rights Movement, it's laughable to see politicians who actively pass legislation that harms the rights of black Americans and other minorities tweet tributes to Martin Luther King Jr. (Yes, Donald and Ivanka Trump both tweeted tributes to King as well. Yes, it's also just as laughable.)
President Obama tweeted a tribute to King that was much more fitting.
He tweeted, "Dr. King was 26 when the Montgomery bus boycott began. He started small, rallying others who believed their efforts mattered, pressing on through challenges and doubts to change our world for the better. A permanent inspiration for the rest of us to keep pushing towards justice." It served as a reminder to young Americans that they don't have to be in their 30s, 40s, or 50s in order to affect change in America.
If this tweet is making you miss Obama as much as it makes me miss him, Netflix just aired its new show with David Letterman, My Next Guest Needs No Introduction, and Obama was his very first guest. In the hour-long interview, Letterman and Obama talk about his presidency and what's next for him with The Obama Foundation, and there's a section of the interview dedicated to talking about the Civil Rights Movement, the march in Selma, and congressman John Lewis, who was one of the leaders of the march in Selma in 1965. It'll make you feel much better after reading Pence, Ryan, Cruz, and Sanders' tweets. Trust me.