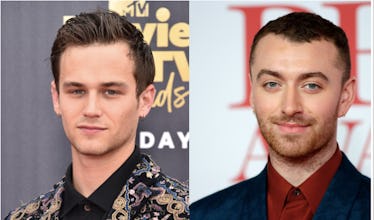 Sam Smith Deleted All His Pics Of Brandon Flynn, So The Reported Split Feels Real
Alberto E. Rodriguez & John Phillips/Getty Images
If you're anything like me, Sam Smith and Brandon Flynn's reported breakup probably has you completely heartbroken. The adorable celebrity couple was exactly what the world needed — not another reminder that love doesn't last. Maybe you're still holding onto a glimmer of hope that their alleged split was nothing more than an ill-timed rumor. I hate to be the bearer of more bad news, but Sam Smith deleted his Instagram pictures of Brandon Flynn... like, all of them.
According to The Sun, Smith and Flynn have broken up after dating for nine months. Smith deleted several Instagram photos of him and Flynn, who is best known for playing Justin Foley on the Netflix series 13 Reasons Why. Even more upsetting is the news that Smith no longer follows Flynn on the social platform.
A source close to the couple said, "Sam and Brandon had a real whirlwind romance. They really fell for each other. But they are both so busy with their careers and unfortunately things just haven't worked out," according to The Sun.
Yes, it was only last month that Flynn posted a photo of Smith smiling at the camera, with the sweetest birthday caption:
He's in a different time zone and it's hit his birthday! Just finishing his European leg of his tour, at 26 he's accomplished so much. He's an angel! He makes me so f*cking happy and I hope everyone goes and shares all the birthday love, it ain't easy getting old but he's doing it with grace thank you for everything, Samuel! Happy 26, here's to another amazing year of life!
The photo is still on Flynn's page, but who knows how long it will stay there. Maybe this is Flynn's way of showing the world that he has no negative feelings toward Smith after their alleged breakup, or maybe he just wasn't as quick as Smith to erase all of their publicly posted memories. It seems like Flynn still follows Smith's Instagram page, and he has kept other, more romantic photos of the two on his feed.
This picture's caption reads:
A few of my favorite things from 2017, as sh*t as some of it was can't help but see all the good! Hoping 2018 is full of ups and downs as well... saw Call Me By Your Name today and couldn't help myself... 'In your place, if there is pain, nurse it, and if there is a flame, don't snuff it out, don't be brutal with it. Withdrawal can be a terrible thing when it keeps us awake at night, and watching others forget us sooner than we'd want to be forgotten is no better. We rip out so much of ourselves to be cured of things faster than we should that we go bankrupt by the age of 30 and have less to offer each time we start with someone new. But to feel nothing so as not to feel anything— what a waste!'
Well this is certainly a big down for 2018, that's for sure. The news also puts a damper on hopes of a happier batch of love songs from Smith, whose most recent studio album, The Thrill of It All, is an emotionally raw compilation of musical regrets and heartbreak. It's beautifully sad, but Smith had been hinting at the possibility of a more positive third album as a result of his relationship with Flynn. In an interview with V Magazine in January, Smith said:
On a personal level, I'm in a relationship right now and for the first time, I think I deserve to be happy. I'm actually asking myself if I'm going to be writing some happy love songs soon.
I'm crying, you're crying, we're all crying over this news. And when Smith releases his inevitable, soulful new track documenting his feelings about this reported breakup, we'll be crying all over again.
Check out the entire Gen Why series and other videos on Facebook and the Bustle app across Apple TV, Roku, and Amazon Fire TV.
Check out the "Best of Elite Daily" stream in the Bustle App for more stories just like this!