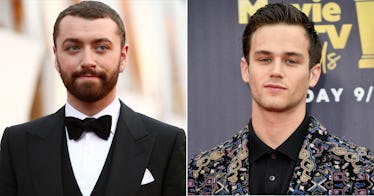 Sam Smith & Brandon Flynn Have Reportedly Split After 9 Months & Fans Are So Devastated
Christopher Polk/Getty Images; Frazer Harrison/Getty Images
Remember when we thought that true love was alive and well? When we all just naturally assumed that life was pure and good? Well, guess what? We were being lied to, and now my heart is crushed into a million tiny little pieces. If you're wondering why life is a heaping pile of existential garbage, it's because Sam Smith and Brandon Flynn have reportedly split, so now I'm just going to crawl into a tiny corner and bawl for about a week. Elite Daily reached out to both teams about the report, but have not heard back by the time of publication.
According to Page Six, Smith and Flynn have broken up after nine glorious months together, and a source close to the couple said, "Sam and Brandon had a real whirlwind romance. They really fell for each other. But they are both so busy with their careers and unfortunately things just haven't worked out."
WHY? WHY ARE THEY DOING THIS TO US?
The source continued, saying, "Sam is obviously devastated. This is the most significant relationship he has ever had. Thankfully he is on tour across the US at the moment which has been a welcome distraction."
So, this is it for the two of them? It's over? What do they expect us to do with this news?
Accurate depiction of what I'll be doing, TBH.
On Tuesday night, some eagle-eyed fans noticed that Smith deleted several photos of himself with the 13 Reasons Why actor, sparking many to take to Twitter to question the status of the couple:
If you're like me, you're wondering WTF went wrong, because it was only a month ago when Flynn took to Instagram to wish Sam Smith a happy birthday. On May 18, he posted a photo of Sam Smith looking happy and in love and perfect (we took this for granted, people), and in the caption, he wrote,
He's in a different time zone and it's hit his birthday! Just finishing his European leg of his tour, at 26 he's accomplished so much. He's an angel! He makes me so f*cking happy and I hope everyone goes and shares all the birthday love, it ain't easy getting old but he's doing it with grace thank you for everything, Samuel! Happy 26, here's to another amazing year of life!
Is it cool if I cry now? OK, great.
Can we just rewind back to a time where the two seemed overwhelmingly in love? Is there a time machine we can use to transport us back a few months?
Back in January, it seemed as is Sam Smith was still very happy with where his relationship was going. In Smith's interview with V Magazine, he said:
On a personal level, I'm in a relationship right now and for the first time, I think I deserve to be happy. I'm actually asking myself if I'm going to be writing some happy love songs soon.
Sam Smith? Writing HAPPY LOVE SONGS? World, take a hard look at what we've lost. And gone are the days where we'll see Brandon Flynn gushing about his love for Sam Smith on social media, too, like this post that was actual perfection on New Year's Day. Part of Flynn's caption said:
A few of my favorite things from 2017, as sh*t as some of it was can't help but see all the good! Hoping 2018 is full of ups and downs as well...
You were so, so right about the "down" portion, my friend.
The only solace that I can get from this news is knowing that Sam Smith will *probably* release another incredibly heartbreaking song about it all, so that I can weep accordingly.