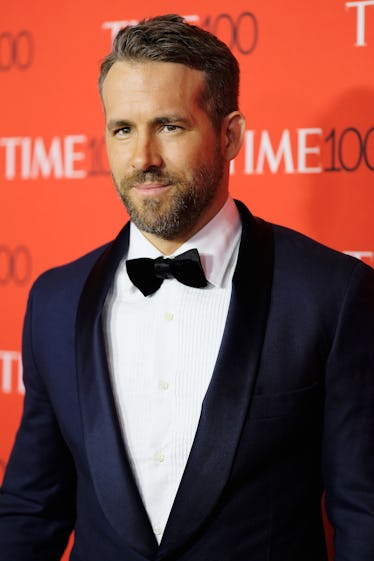 Ryan Reynolds Opened Up About His Struggle With Anxiety & It's So Important
Dimitrios Kambouris/Getty Images Entertainment/Getty Images
It's no secret that there's still a lot of stigma surrounding discussions about mental health. So, each time a celebrity opens up about their mental health issues, it's a huge step forward for people advocating for better mental health education and discussion. Ryan Reynolds' struggle with anxiety is the latest news story about mental health to hit the Internet and it's really opening up lots of people's eyes.
In a new interview with The New York Times, Reynolds detailed his lifelong struggle with anxiety and how it affects his day-to-day life:
I have anxiety, I've always had anxiety. Both in the lighthearted 'I'm anxious about this' kind of thing, and I've been to the depths of the darker end of the spectrum, which is not fun.
Reynolds' words on his condition speak to a struggle that 40 million people in the United States also face. So, that the Deadpool actor is coming forward and being very open and honest about it is extremely important.
In the interview, Reynolds explained that his anxiety often peaked when he was trying to keep the peace between his father, himself, and his three brothers:
I became this young skin-covered micro manager. When you stress out kids, there's a weird paradox that happens because they're suddenly taking on things that aren't theirs to take on.
So, basically, Reynolds was in a situation that forced him to take on a more adult role than he was ready for. Clearly, stress at home led to even more internal anxiety.
Reynolds has gone on record saying that his father was pretty tough on him and his brothers, making their relationship perhaps more complicated than he would have liked. In an essay for Time, Reynolds painted a complex picture of his father:
Growing up my father was – at least in our eyes – the toughest man alive: a former cop, former boxer and full-time landmine. He worked tirelessly to provide for his family and in return, you were expected to do what he said, often before he said it. It was a somewhat impossible situation for any normally functioning nervous system. In a word, he was scary.
But it's not just family woes that cause Reynolds to spiral down into an anxious state. Work can also be emotionally and psychologically trying.
In preparation for his Deadpool 2 press tour, Reynolds decided that he'd be doing most interviews while character to keep his anxiety levels at bay:
When the curtain opens, I turn on this knucklehead, and he kind of takes over and goes away again once I walk off set. That's that great self-defense mechanism. I figure if you're going to jump off a cliff, you might as well fly.
This sounds like a pretty awesome technique for someone in Reynolds' shoes. It's great to see that he's learning how to manage his anxiety and move forward with a positive mindset.
Reynolds' wife, Blake Lively, also keeps him in a positive head space. In a January 2017 interview with Variety, Reynolds explained that it was Lively who helped him manage his stress and anxiety after Comic-Con:
Blake helped me through that. I'm lucky to have her around just to keep me sane.
Reynolds and Lively have been married since 2012. They have two daughters — James, who is 3, and Ines, who is just a year old. One of the hallmarks of their relationship is how much fun they poke at each other on social media, which Reynolds says is yet another way Lively makes life easier for him.
"She gets me a lot," the actor said.
And it's true. The two seem to really have the same sense of humor and show their affection for one another in all kinds of ways. It's really nice to see, actually!