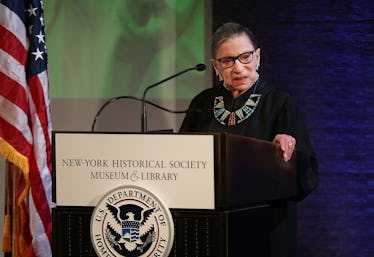 This Is Ruth Bader Ginsburg's Stance On Roe V. Wade & It's Not What You'd Expect
Spencer Platt/Getty Images News/Getty Images
President Donald Trump on July 9 announced his nomination to fill the vacancy on the U.S. Supreme Court following the retirement announcement of Justice Anthony Kennedy. Now, as the country waits to see whether the Senate will confirm Trump's pick, it also faces the prospect of a court that might jeopardize reproductive rights. And when it comes to the justices' stances on abortion, it's worth noting that Ruth Bader Ginsburg's stance on Roe v. Wade is actually fairly critical.
If confirmed, SCOTUS will possibly find another vote in favor of overturning Roe under Judge Brett Kavanaugh, a conservative voter whose track record is assumedly anti-abortion, though he hasn't made an opinion directly on the case. Thanks to the advent of Neil Gorsuch in 2017, the court is now already more inclined away from abortion rights.
In fact, the impacts of the court's conservative-majority makeup are already being felt. SCOTUS, now a conservative-majority court, upheld that pregnancy resource centers in California would no longer have to abide by a law requiring them to disclose the full range of options, including abortions, to patients seeking counsel in June. So now, the possibility of Kavanaugh's confirmation makes every other vote on the court that much more critical.
Some might be surprised to learn that Ginsburg has actually been critical of the decision in Roe over the years. Perhaps most telling is Ginsburg's own article on Roe in a law review in 1985. She wrote, "Overall, the Court's Roe position is weakened, I believe, by the opinion's concentration on a medically approved autonomy idea, to the exclusion of a constitutionally based sex-equality perspective." In other words, the decision on abortion should be based on women's equal rights under the law, not on whether a doctor says she needs a procedure.
It's not that Ginsburg is anti-abortion; far from it. In fact, it's precisely because she's one of its most staunch defenders that she was dissatisfied with the court's ruling on Roe.
Essentially, Ginsburg takes issue with Roe not because it granted the right to abortion, but because she feels it left that right vulnerable to repeated attacks. In a discussion at The University of Chicago Law School considering the case four decades later, Ginsburg affirmed her assessment of the ruling, saying, "My criticism of Roe is that it seemed to have stopped the momentum on the side of change."
At a New York University panel this past February, Ginsburg reiterated her issue with the decision. "The challenge was to the most extreme law in the nation, [which declared] the only basis for an abortion was the woman's life," Ginsburg said. This narrow allowance of a right to abortion — only in cases where it threatened the child-bearer's life — opened the door for future laws and rulings to chip away at those rights. Timing of a pregnancy term, whether the pregnancy was a result of incest or rape — all of these restrictions have come before the courts.
Ginsburg's feelings on abortion, based on her decisions in other cases, is clear. In the 2016 case Whole Women's Health v. Hellerstedt, which weighed a Texas law that placed restrictions on practitioners for providing abortions, Ginsburg voted against the restrictive law, going so far to add her own concurrence. Drawing on the research showing the rarity of abortion-related medical complications, she concluded that it did nothing to protect women's health but merely made abortions more difficult to obtain a procedure. As she wrote in a concurring opinion, "When a State severely limits access to safe and legal procedures, women in desperate circumstances may resort to unlicensed rogue practitioners...at great risk to their health and safety."
At the heart of Ginsburg's stance on abortion seems to be her belief in equal protection; that is, equal rights for women. Asked during her Senate confirmation hearing about these equal rights as they pertain to abortions, Ginsburg referenced Planned Parenthood v. Casey, which reaffirmed the Roe decision.
"I will rest my answer on the Casey decision, which says in the end it's her body, her life, and men — to that extent — are not similarly situated," Ginsburg said, per OnTheIssues.org. "They don't bear the child."
Rather than affirm the right to an abortion based on a doctor's assessment of a woman's health, Ginsburg seems clear in her stance that the right to abortion should rest on the fact that women are equal, and therefore a woman should have the right to make her own decisions, full stop.