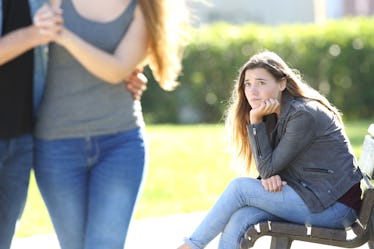 7 Cringe-Worthy Stories About Running Into Exes That'll Make You Stay Inside Forever
What is the one universally awkward, cosmically misaligned event that feels just like the gods are collectively looking down at you, and sharing a good belly laugh? Ah, running into an ex. It's a mix of genuine intrigue and sheer humiliation, followed by a sea of self-doubt: Did I seem too interested? Too rude? Why did I put on my only sweatshirt with a giant stain this morning? Take comfort in the knowledge that unless you keep in close contact or have maintained a friendship with your ex, this experience is cringe-worthy for absolutely everyone — you are totally the rule, not the exception.
I've had my fair share of uncomfortable run-ins. I live in New York City, which just happens to be where I attended high school and seemingly where everyone I went to college with chose to move post-grad. I actively run into people I forget I once flirted with on the subway. One of my most humiliating encounters involved running into my high school boyfriend at a bar on New Year's Eve, just days after I'd learned that my foot was broken. I was in a full cast, crutching around. Having not anticipated seeing him, I fully face-planted.
Regardless of whether the nostalgic memory of your ex makes you smile, cry, or honestly — vomit, these unbelievably awkward stories are sure to make you giggle.