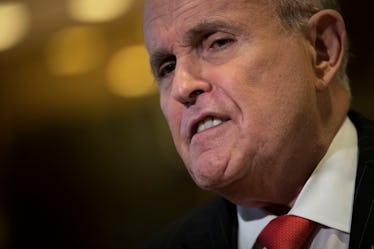 Rudy Giuliani Wants To Be Ivanka Trump's Knight In Shining Armor & It's So Creepy
Drew Angerer/Getty Images News/Getty Images
Most women have had to listen to someone, usually a man, act like a knight in shining armor riding in for the rescue at some point in their lives. And apparently not even the first daughter is immune. During an appearance on Fox News on May 2, Rudy Giuliani shared some comments about rescuing Ivanka Trump.
During a discussion with Fox News host Sean Hannity, Giuliani, who joined Trump's legal team in April, said he would not stand by and let special counsel Robert Mueller question Ivanka for the investigation into collusion with Russia. Instead, he said, he would jump in to protect her.
"I think I would get on my charger and go right into — run into their offices with a lance if they go after her," he said.
But that's not all. After Giuliani declared he'd be Ivanka's knight in shining armor, Hannity asked him why he wasn't upset when the investigation focused on the president's son-in-law Jared Kushner. "Jared is a fine man, you know that," Giuliani explained. "But men are, you know, disposable. A fine woman like Ivanka, come on."
A fine woman like Ivanka. Yep, those were real words that a real human said in 2018. It's so creepy. Listen up: Ivanka Trump is not a wine to collect, cherish and protect. She's a senior adviser to the president and helps run the country, so the idea that he would need to protect her from questioning is laughable (aside from the weird creepiness).
It doesn't seem like Giuliani is handling the publicity part of his job very well. Aside from the insanely creepy comments about Ivanka, he said a host of other things that, according to CNN, has President Donald Trump's legal team in "disarray."
For one, he told Hannity that Trump repaid lawyer Michael Cohen after he reportedly gave $130,000 to adult film star Stormy Daniels, legally known as Stephanie Clifford, for her silence about an alleged affair between her and the president in 2006. Cohen said in February that he had made the payment out of his own pocket, and that "[n]either the Trump Organization nor the Trump campaign was a party to the transaction with Ms. Clifford." Trump has repeatedly denied the affair, and said on April 5 that he didn't know anything about the arrangement. Giuliani also said that Trump fired former FBI Director James Comey in May 2017 because he wanted him to publicly declare Trump himself wasn't a target of the probe into whether the Trump campaign colluded with Russia. ""He fired Comey because Comey would not, among other things, say that he wasn't a target of the investigation," Giuliani said. Trump has previously given mixed answers as to why he fired Comey.
Trouble with public relations might be a big problem for Giuliani, who was largely brought on to end the investigation into possible collusion between Russia and the 2016 Trump campaign quickly, according to a statement from Trump's lawyer Jay Sekulow. "The president said: 'Rudy is great. He has been my friend for a long time and wants to get this matter quickly resolved for the good of the country,'" Sekulow said in a statement to The New York Times.
But, in fact, it seems the investigation is only ramping up. On April 30, The New York Times released a leaked document with 49 reported questions that Mueller allegedly wants to ask the president. Trump responded in typical fashion and took to Twitter, saying the leak was "disgraceful," even though it likely originated with his team, according to reports. Elite Daily reached out to the Department of Justice and the White House for comment at the time, but did not receive a response.
Then, on May 3, Trump shot off another tweet, threatening to invoke the powers of the presidency to force the Justice Department to turn over documents relating to the scope of the investigation into possible collusion with Russia. The DOJ denied requests from the administration to turn over documents, saying that releasing the information could jeopardize an ongoing investigation, according to Politico.
Also on Wednesday, Trump decided to shake up his legal team... again. He brought on veteran lawyer Emmet Flood, who represented President Bill Clinton during his impeachment proceedings in 1998. According to The New York Times, Flood is expected to be more aggressive and less likely to work with Muller.
Who knows when, or if, we'll get clear answers on anything Trump has been doing, but, in the meantime, I'm going to desperately try to get the picture of Giuliani riding into law offices with a lance and an over-inflated ego out of my head.