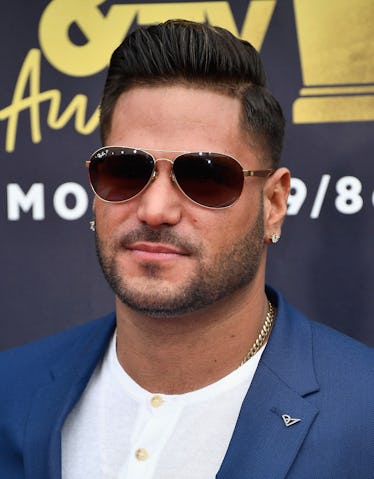 Ronnie Magro Just Clarified Where His Relationship With Jen Harley Stands
Frazer Harrison/Getty Images Entertainment/Getty Images
I really need to talk about the fight that went down between Ronnie Magro and his baby mama, Jen Harley, during the Aug. 30 episode of Jersey Shore Family Vacation. Because if you haven't seen it yet, lemme just say this: It's worse than that time Sammi "Sweetheart" Giancola punched him in the face. WAY worse. Because even though the Sam/Ron encounter involved physical violence, the Jen/Ron blow up was over their 4-month-old child. And it was seriously intense. Luckily, Ronnie Magro's comments about Jen Harley on his recent Instagram story show that their relationship is now in a better place. But OMG, I am still not over that massive fight.
What happened was this: Jen was apparently pissed at Ron for going back on the show for Season 2 of Jersey Shore, and so Ron was worried she was going to try and keep his daughter Ariana away from him. At first, Ron decides he's going to leave the show so he can go deal with everything, but then Pauly D — who has a 5-year-old daughter of his own and has been down this road before — convinces Ron to "fight for your rights as a father" and go lawyer up so he can get joint custody instead.
You with me so far? OK good. Here's a screengrab of executive producer SallyAnn Salsano trying to stop Ron from leaving the show:
The next night, Jen is somehow able to storm into the Shore suite at Planet Hollywood without knocking (thanks, producers!), where she proceeds to accuse Ron of texting her a whole bunch of insults.
"You're driving me crazy!" he yells at her. "All you do is use that kid as a f*ing pawn!"
"You're a f*ing psychopath," she fires back. "You're a f*cking loser. You're a piece of sh*t." And then she spits in his face.
"You're calling me a f*cking whore?! Motherf*cker!" she continued to yell as she took off her mic and lunged at Ron with open fists. "I don't give a f*ck. I'll go to jail!"
A security guard then tries to restrain Jen as the screen fades to black, reminding all of us viewers at home how very dark this whole situation really is, especially because poor, innocent Ariana is involved. But even though things for this little three-pronged family looked hopelessly bleak at the end of the episode, Ron took to his Instagram story shortly after it aired to offer fans a glimmer of hope.
"For the record, I love My family, my daughter & the mother of my child," he wrote beside a picture of him and Jen in the pool with their adorable little girl. "The way I felt than [sic] during that moment isn't how I feel 3 months later. Unfortunately, this season caught a rough patch in both our lives, we stuck together & have got thru it."
He then goes on to assure everyone that Ariana is growing up in a happy home, despite what is shown on the show this season. "It's a combination of bad timing, a lot of moving parts, misinformed information," he explained. "She has two amazing parents who love her."
This whole situation is just so sad, and I really hope for that precious little child's sake that these two really are finally in a better place.