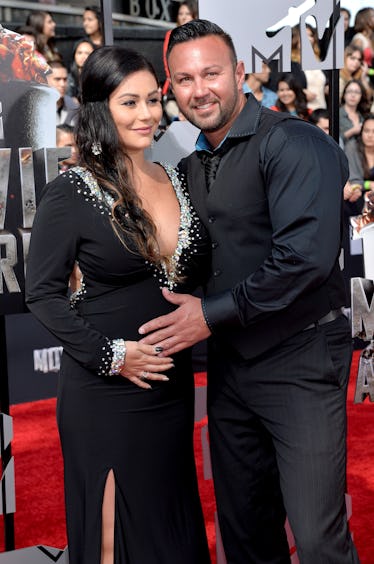 Roger Mathew's Left A Cringeworthy Comment About JWoww On Sammi Sweetheart's Instagram
Michael Buckner/Getty Images Entertainment/Getty Images
OK, so I know Jenni "JWoww" Farley and her husband Roger Mathews are not in the best place right now and may be splitting up after three years of marriage, but I still totally ship these two. I was def feeling a tiny glimpse of hope that they could work things out after they pulled it together on Halloween to dress up with their two kiddos as characters from their son Greyson's current favorite movie, Moana. But now, Roger Mathew's comment about JWoww on Sammi's Instagram has me shaking my head and feeling bummed all over again. The whole thing is just so cringey and I kinda don't know what to think.
So, here's what went down: Poor Sammi Sweetheart was just trying to stay in her lane and promote her own freaking business on social media. I mean, you just know how much she hates getting dragged into this mess. She's already bid adieu to one toxic relationship — hasta la vista, Ron! — and there is no way she is happy about being pulled into the middle of another one.
Anyway, on Nov. 9, the former Jersey Shore castmate took to Instagram to post a pic of herself looking pretty gorge in one of the dresses from her online Sweetheart Styles boutique:
"Fun fact," she wrote in the caption. "My mom took this photo."
Nothing unusual there, right? But then Mathews decided to roll up in the comment section and make things seriously awkward:
"Fun fact," he fired back. "My wife finds me repulsive."
Woah. And also... what?! I have so many questions, you guys! Like, was Mathews being serious? Because if he was, that means JWoww must have told him that she finds him repulsive, and now he's decided to tell the whole world. So not cool. Don't air your dirty laundry on Instagram, man. Just stop it, Rog. STAAAAHP!
On the other hand, there's a pretty good chance Mathews could have been joking, since he's posted weird stuff like this on Insta before. Remember back on Oct. 3 when he shared a picture of his tattooed lower back hooked up to some kind of contraption shortly after the news first broke that JWoww had filed for divorce?
"Science has advanced to the point my where they make shock therapy specifically designed for men to become better husbands," he wrote in the caption. "I had this device installed with shock leads that go directly into my spine and my wife holds the controller and settings. It's called the 'Dirtbag 9000'. It has voice recognition so if you question your wife it will light you up like a f--king Christmas tree."
"Humor has always been my way through life," Mathews explained later in the caption. "Praying for a better tomorrow. Love you @jwoww."
Hmm. So he was clearly kidding around in that post. But do we think he was just being sarcastic this time, too? Either way, if he really is trying to work things out with JWoww, he should prob try to keep all their problems on the DL.
I'm gonna need JWoww to weigh in ASAP!