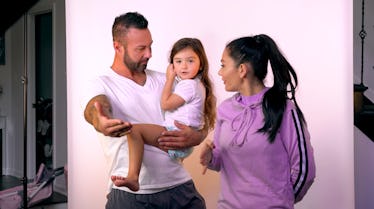 JWoww & Roger Mathews' Family Halloween Shoot Will Give You Hope For Their Future Together
YouTube
Jersey Shore fans have felt lost and scared ever since they heard Jenni "JWoww" Farley and her husband Roger Mathews' relationship is on the rocks. However, the spooky Halloween season is strangely offering a little bit of hope. JWoww, Roger, and their two children came together for their annual Halloween photoshoot, and the final result is awesome. The video of JWoww and Roger Mathews' family Halloween shoot isn't romantic per se, but it is fun to watch.
In the past, the Farley-Mathews have always coordinated their family costumes, dressing up as things like The Incredibles gang or a group of minions. This year, they opted to go full-Disney mode and dress up as the crew from the hit animated film, Moana. According to JWoww, it's her son Greyson's current favorite movie and he is totally obsessed with the character Maui. "Literally, he carries his Maui doll everywhere," she said. Based on his affinity for the touching tale, JWoww and Mathews decided to just go for it.
Mathews dressed up as Chief Tui, obviously, and JWoww rocked a white tank top and floral printed skirt, plus the character Sina's signature pink hair flower. Of course, their daughter Meilani had the honors of being Moana, and Greyson gave Maui his best effort, though he ended up in a diaper for most of the shoot.
Hey, can't win them all.
Roger didn't say much, but his chest tattoos kind of speak for themselves. Take a look:
You can check out the photos from the shoot on JWoww's Instagram. Looking at these photos, it's hard to believe reports broke saying JWoww officially filed for divorce just a few weeks ago. On Sept. 27, E! News reported the reality TV star cited "irreconcilable differences" on her petition for divorce. However, Mathews isn't ready to call it quits. In a variety of social media posts and Instagram videos, he's made his intentions of "winning his wife back" extremely clear. Elite Daily reached out to the couple's reps for comment on the divorce reports, but did not hear back by the time of publication.
In one Instagram video, he explained, "There's no cheating or any dumb sh*t or any juicy details. It's just she grew tired of the repetitive pattern we fell into. Again, I am not going to get into detail but it was a repetitive pattern and not a good one." He also added, "I am going to win my wife back. I'm going to win her affection back, I am going to win her love back. I have no intentions on being a single dad."
A source told E! News the two actually "haven't gotten along for a while." The insider said, "There was no cheating or anything like that. They have deep-rooted issues that have been going on for a long time and since before the Jersey Shore reboot even started filming... They argue a lot and Jenni was just tired of it." A publicist for the couple told E!, "Jenni and Roger are putting their kids first and are completely focused on Meilani and Greyson. They're not commenting further at this time."
Well, Happy Halloween for now, I guess. For whatever it's worth, I think you guys look great.