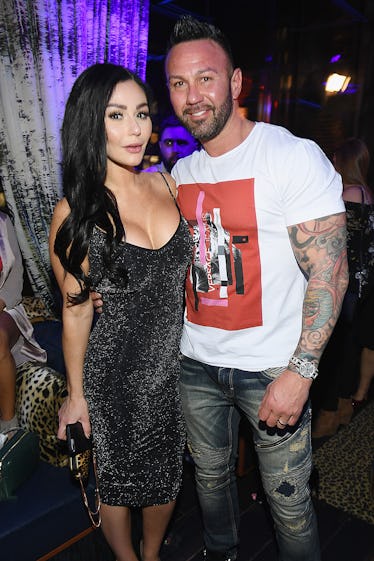 Jwoww & Roger Mathews From 'Jersey Shore' Have Reportedly Split, So Love Is Really Dead
Dave Kotinsky/Getty Images Entertainment/Getty Images
Love is officially dead, at least if your gauge for true love is a reality show. According to a Sept. 27 report from TMZ, JWoww and Roger Mathews from Jersey Shore have reportedly split. Elite Daily reached out to the couple's reps for comment on these reports, but has not heard back at the time of publication.
In any case, JWoww, whose real name is Jenni Farley, reportedly filed for divorce approximately on Sept. 12 in Ocean County, NJ. TMZ has only just now confirmed that JWoww and her husband are going ahead with the divorce. According to TMZ's report, JWoww's paperwork cites "irreconcilable differences" as a reason for the divorce. Apparently, the marriage has been rocky for the better part of six months.
JWoww and Mathews tied the knot back in Oct. 2015, so news of their divorce is surfacing just weeks shy of their third anniversary. News of the divorce was first reported by Ashbury Park Press. According to their report, JWoww's petition for divorce calls for a dissolution of the marriage.
"The Plaintiff and the Defendant have irreconcilable differences which have caused the breakdown of the marriage for a period of at least six months which make it appear that the marriage should be dissolved and that there is no prospect of reconciliation," the complaint said.
While the news of the couple's marriage troubles is unexpected, it's not terribly surprising. In an April 2018 Instagram post, Mathews dropped a few hints that not all was going well for them. In the post, Mathews wrote:
My wife and I agree we are sick of celeb couples pretending to have the perfect relationship and when they separate they come out with some PC statement that someone else wrote about how they are the best of friends still. Some people actually buy into that sh*t and are "devastated " their favorite couple broke up.
After expressing his distaste for celebs who don't keep it real, he said that he and his wife would:
Well we gonna keep it real for you. Some days it's a struggle to stay together. Some days she calls me a f**king d*ck head (cause I am). Some days the grass looks greener on the other side. We aren't even close to perfect and I have no intention on pretending that we are. But we are perfectly imperfect for each other.
So, back then, fans should have gotten a clue that maybe the marriage wouldn't last. It does look like they gave it a good try, though. Unfortunately, not all relationships work out for the best and this seems like one of those instances in which the parties involved need a breather.
It's a sad situation all around, especially since the couple has two children together. With any luck, they'll be able to co-parent in a civil and thoughtful manner.
In the meantime, JWoww is currently busy with Jersey Shore: Family Vacation. I'm sure fans are wondering if and how the divorce drama will play out on the small screen. They'll find out sooner or later.