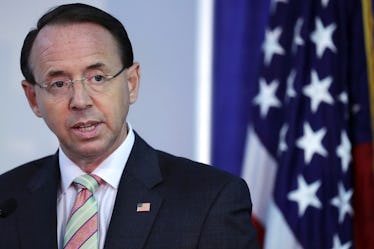 Rod Rosenstein Reportedly Mentioned Removing Trump From Office After Comey's Firing
Chip Somodevilla/Getty Images News/Getty Images
President Donald Trump might have another threat to his power to worry about. According to reports from The New York Times on Friday, Sept. 21, Deputy Attorney General Rod Rosenstein discussed the 25th Amendment following controversial actions by Trump over a year ago. Per the Times, Rosenstein made remarks suggesting invoking the amendment, which provides a path to remove a president from office, after the president fired Former FBI Director James Comey in May 2017. Additionally, the report says Rosenstein had proposed making secret audio recording of the president, presumably to have evidence of conversations. Elite Daily reached out to the White House and Department of Justice for comment on the Times' report but did not receive a response at time of publication.
The report was apparently based on interviews with DOJ officials who had been in meetings and conversations in which Rosenstein had reportedly made such remarks, but the deputy attorney general himself disputes this account. A DOJ spokesperson also apparently told the Times that the remarks were made as a joke.
"The New York Times' story is inaccurate and factually incorrect," Rosentein said in a statement to the Times. "I will not further comment on a story based on anonymous sources who are obviously biased against the department and are advancing their own personal agenda. But let me be clear about this: Based on my personal dealings with the president, there is no basis to invoke the 25th Amendment."
President Trump has long had a difficult relationship with Rosenstein, who oversees Special Counsel Robert Mueller's investigation into possible collusion between the Trump campaign and Russia due to Attorney General Jeff Sessions' recusal from the probe. As a result of that tumultuous dynamic, there's been frequent speculation about whether Trump, who calls the investigation a "witch hunt," might fire Rosenstein in an attempt to replace him with someone who would in turn fire or impede Mueller.
Comey was the initial head of the probe, but in May 2017, Trump fired Comey using his handling of the investigation into Clinton's emails as a rationale, as explained in a memo written by Rosenstein. Following Comey's ouster, Rosenstein appointed Mueller to take over the probe, and the special counsel was given a more comprehensive and extensive scope to carry it out, pulling on any all threads related to Russian connections with the Trump campaign. In addition, Mueller was tasked with investigating whether Trump's firing of Comey himself was an effort to obstruct justice.
Comey later disclosed that the president had reportedly talked to him about the investigation on more than one occasion, and feeling uneasy about those interactions, documented everything.
Aside from the president and the investigator he ousted, Trump and the deputy attorney general themselves have been in a not-too-secret feud for quite some time. Rosenstein signed off on an April raid to gather evidence from the office of Michael Cohen, Trump's former personal lawyer, for a separate investigation being carried out in the Southern District of New York. There have been rumors as well that Trump has allegedly had Rosenstein in his cross-hairs, and in April White House officials were reportedly preparing for that firing to happen, per news reports. Elite Daily reached out to the White House for comment at the time, but did not hear back. This runs counter to Trump's own statement in August, saying he had a "fantastic" relationship with the deputy attorney general.
The 25th Amendment has also been popping up in the news cycle lately, most notably in the infamous New York Times op-ed by an unnamed White House official that was published anonymously on Sept. 5. The 25th Amendment basically gives senior officials around the president the right to strip him of his power if they determine him to be unfit for the demands of the office.
Invoking the 25th Amendment is easier said than done, however — in fact, it was expressly designed to be hard to do so that only in grave circumstances would it be used. Essentially, it takes Vice President Mike Pence plus a majority of the president's cabinet or a cohort of Congress to all sign off on this to get the ball rolling, and from there, it's an arduous process that requires a two-thirds majority of both House and Senate to come to pass.
Some politicians have already mentioned the amendment as a way to quell the tide of Trumpian chaos and mitigate any potentially gravely consequential decisions. (The president's Twitter feed alone has given many a cause for worry.) Whether Rosenstein actually thought it was likely to lead to anything is a huge unknown at this point. One more mystery in the Trump administration.