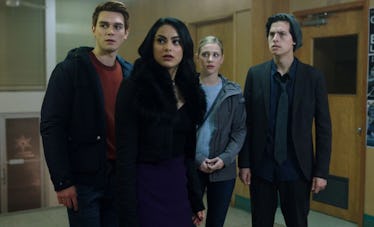 The 'Riverdale' Showrunner May Have Just Revealed This Couple Is Breaking Up Soon
CW
Things are already off to an unsettling start in Season 3 of Riverdale, but although the biggest shocks from the premiere centered on a spooky new supernatural element in town, fans are also starting to worry about the romantic drama that the new season has in store for its core four. Showrunner Roberto Aguirre-Sacasa's Riverdale Instagram about Archie and Veronica has some fans worrying that we will see a major break up sometime soon in Season 3.
Of course, #Varchie shippers are already on edge about the relationship after the ending of the Riverdale Season 3 premiere. Although Archie and Veronica got in some fireside action and Veronica fiercely stood up to her father over how he has schemed against her boyfriend, in the end, Archie wound up confessing to a murder he did not commit and was carted off to two years in juvie as Veronica tried in vain to protest the arrest. Now that Archie and Veronica are separated, can their relationship withstand the distance?
Well, Riverdale showrunner Roberto Aguirre-Sacasa's recent Instagram post is not making things sound hopeful. The new photo shows a police officer inspecting Archie's mouth, presumably as a precaution before Archie enters the juvenile detention facility that will be his home for the next two years. What is really causing fans to worry, though, are the emojis that Aguirre-Sacasa posted in the caption. At the end of a string of emojis, Aguirre-Sacasa posted a broken heart, which a number of people are fearing could be foreshadowing Archie and Veronica's break up.
KJ Apa did not make things sound to promising for Archie and Veronica in Season 3, either. Before the season kicked off, Apa warned that the new run of episodes will put a definite strain on Archie and Veronica's relationship:
I don't think it's looking good for Varchie this season. I think their relationship will definitely be put to the test … Archie kind of finds himself alone this season, for a bit of it.
And that tension will begin in Wednesday night's new episode, "Fortune and Men's Eyes." As the teaser trailer for Season 3 Episode 2 reveals, the new episode will focus on Archie's first few days at juvie, and Veronica will throw on a blonde wig as a disguise in order to visit him.
And when Veronica is not finding ways to visit her incarcerated boyfriend in the upcoming episode, she will be running her brand new speakeasy located beneath Pop's Diner. Entertainment Tonight shared some first-look photos at Veronica's Old Hollywood-inspired establishment, which she brought up at the very end of Season 2 when she acquired the ownership of Pop's from her father.
While Archie and Veronica seem to be drifting apart into two very different worlds, Riverdale's other central couple appears to be getting closer than ever. With weirdness at an all-time high in Riverdale, Betty and Jughead will team up to do what they do best: investigate. Well, at least we still have one couple that looks like it will stay together this season.