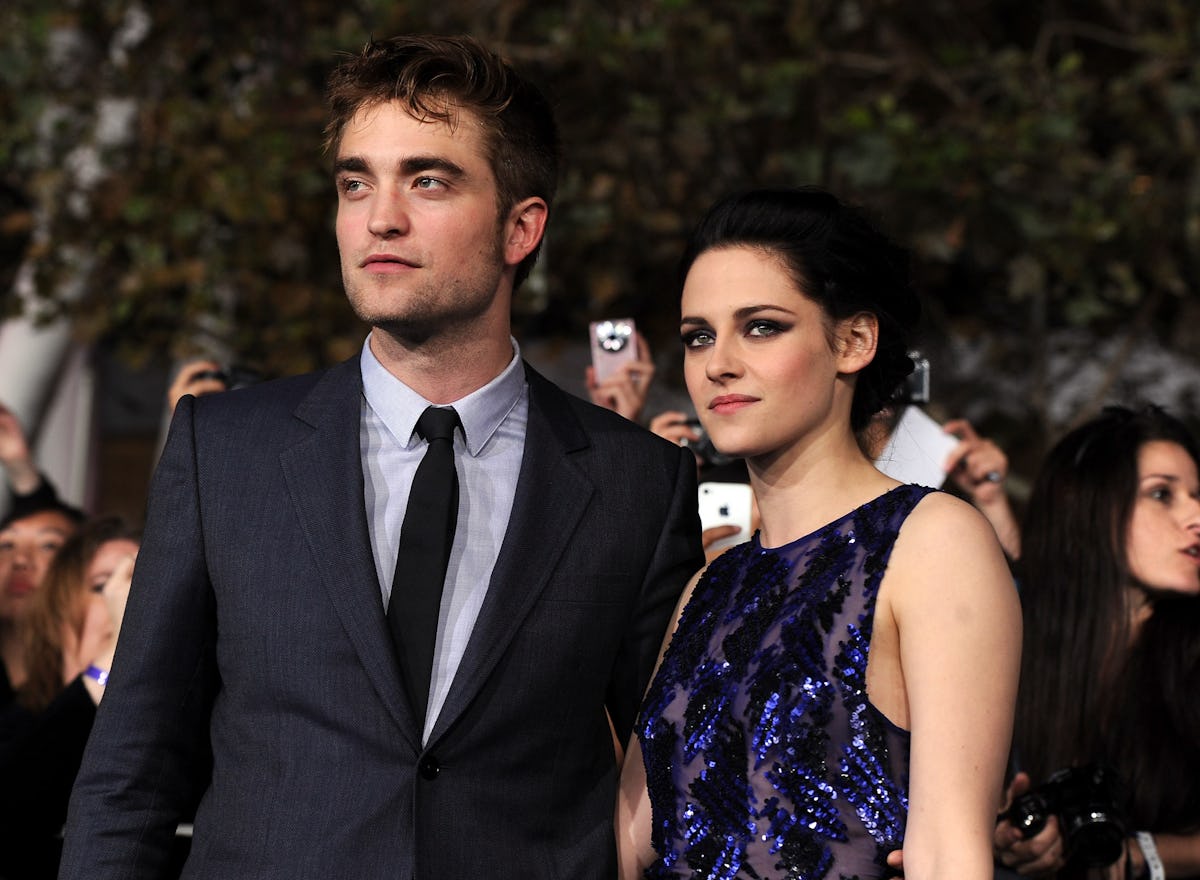 Robert Pattinson Almost Didn't Mention Kristen Stewart As A Fave Co-Star & OMG, Cringing
Kevin Winter/Getty Images Entertainment/Getty Images
Robert Pattinson and Kristen Stewart were the couple I lived and breathed for in high school. Like any good Twilight super-fan, I attended every single midnight premiere, read every book cover-to-cover several times, and cried actual tears when R. Patz and K. Stew started dating IRL. These two majestic humans who screamed love on camera were actually in love for real! Oh, happy day! But sadly, the tables turned aggressively, and if Robert Pattinson's quote about Kristen Stewart at the June 13 premiere of his new movie Damsel is any indication, then Bella — I mean, Kristen— is far (far) from the top of his mind.
Damsel comes out on June 22. The Western comedy, starring Mia Wasikowska alongside Pattinson, showcases our beloved Edward Cullen rocking fake teeth and a heavy Southern accent — definitely out of the norm for Pattinson, who usually plays the mysteriously brooding leading man in most of his films. And because the movie is so aptly named Damsel, ET's Katie Krause asked Pattinson who his favorite "boss-lady damsel that you've ever had the pleasure of working with" was.
"Definitely Mia is one of them, obviously," he replied. "Kristen Scott Thomas, Uma Thurman…" to which Krause said, "I thought you were going to say Kristen Stewart, because I saw you guys just hung out the other day!" Cringe! This is the part I couldn't watch, because his face... ugh, his face. R. Patz looked like a deer caught in headlights.
"Kristen Stewart, Kristen, too! Kristen Stewart as well, yeah, yeah yeah," he said, quickly adding, "Catherine Hardwicke, too. She's great." As in, yes, OK, moving along now! The interviewer also slipped in,"How is it, hanging out?" which Pattinson either did not hear or purposely just… evaded. Awk.
He honestly handled the situation very well, I think, considering it's been more than five years since his breakup from Stewart, and if he didn't mention her at the top of his list, it may just be a sign he's truly over her. And it's really not surprising! He dated singer FKA Twigs from 2014 to 2017, and they were even rumored to be engaged. Stewart dated singer St. Vincent in 2016, and later began a relationship with current girlfriend, model Stella Maxwell.
Exactly when Pattinson and Stewart started dating each other is a little unclear, but they began showing intimate affection in public around June 2009, E! News reports, after meeting on the set of Twilight in 2008. It wasn't until October 2011 that Stewart told British GQ that her "boyfriend is English," adding, "So much of my life is so easily Googled. I mean, it's like, 'Come on guys, it's so obvious!'" Around the same time, Pattinson thanked Today's Ann Curry when she congratulated him on Stewart's success.
But then (oh, but then), in July 2012, Stewart was caught cheating on Pattinson with Rupert Sanders, director of Snow White and the Huntsman, in which Stewart starred. Photos were taken of the two kissing and cuddling in Los Angeles and were released by Us Weekly shortly after. Stewart responded by issuing a public apology, saying:
"I'm deeply sorry for the hurt and embarrassment I've caused to those close to me and everyone this has affected. This momentary indiscretion has jeopardized the most important thing in my life, the person I love and respect the most, Rob. I love him, I love him, I'm so sorry."
Sanders didn't attempt to deny what happened either, issuing his own statement saying:
"I am utterly distraught about the pain I have caused my family. My beautiful wife and heavenly children are all I have in this world. I love them with all my heart. I am praying that we can get through this together."
Sadly, they did not, and Sanders and Ross divorced in 2014. So yeah, bad breakup. But thankfully, because we're all adults here and, you know, it's been a minute, Pattinson and Stewart seem to be on good terms and were recently seen together outside a party for Lily-Rose Depp just a few weeks ago. People freaked out, naturally, but don't get your hopes up! As far as we know, Stewart and Maxwell are still together, and clearly, several leading ladies come to Pattinson's mind before Stewart. (So yes, that maybe means he's single. Commence regression into school-girl obsession once more.)
Check out the "Best of Elite Daily" stream in the Bustle App for more stories just like this!