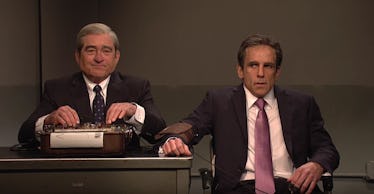 This 'SNL' 'Meet The Parents' Skit About The Russia Investigation Has Twitter Screaming
I think it's safe to assume that as long as FBI Special Counsel Robert Mueller is investigating alleged Russian interference in the 2016 presidential election, then the Saturday Night Live cast will perform skits about it. The program's April 14 show started with a familiar politics-pegged cold open, but there were a couple unexpected guest stars. Robert De Niro and Ben Stiller's SNL skit brought the former costars together again, and Twitter is very much here for this Meet The Parents reunion.
The pair was reunited for this SNL skit that had De Niro portray Robert Mueller, and Stiller was President Donald Trump's lawyer, Michael Cohen. After Stiller's Cohen talked briefly about the recent FBI raid on his office with Kate McKinnon's Jeff Sessions and Beck Bennett's Vice President Mike Pence, Stiller's Cohen was sent down the hall. That's when viewers were treated to the surprise star-studded skit.
In an apparent effort to get the truth, De Niro's Mueller administers a lie detector test to Stiller's Cohen, and fans were delighted by this perfect tribute to the lie detector scene from their film, Meet The Parents. In the 2000 film, De Niro's character, Jack Byrnes, is a retired CIA operative and famously gives Stiller's character, Greg Focker, a lie detector test when he comes to his home as his daughter's new boyfriend.
The skit is peppered with buzzwords from the real investigation (like when De Niro asks Stiller about allegations of "that pee-pee tape"), but the writers also included memorable lines from their hit movie. For example, Stiller's Cohen says he "was just trying to milk some information out of people." It was the perfect segue to harken back to one of the funniest parts of the movie, and Stiller's Cohen does so as he says, "Yeah, like with a cow or a goat or a ... cat. I mean you can milk anything with nipples." De Niro's Mueller then asks, "Really? I have nipples. Can you milk me, Mr. Cohen?"
Viewers were screaming over this unexpected twist on a Mueller investigation skit.
"Great to see Robert DeNiro and Ben Stiller recreate their Meet the Fockers lie detector scene as Robert Mueller and Michael Cohen ... hilarious opening."
"This was PERFECT, I literally screamed when I saw him — I hope De Niro plays Mueller when the movie comes out ..."
"That SNL cold open with De Niro as Robert Mueller and Stiller as Michael Cohen was an absolute gem."
"As a HUGE Meet The Parents fan, I loved the references in this."
"Loved that they cast these two guys!"
"That was a nice surprise and hilarious!"
"Haha love the Meet the Parents reference!"
Not only were fans delighted by the Meet The Parents references, but people were in awe of how uncanny De Niro's Mueller resembled the likeness of Mueller himself.
"...Robert De Niro playing Robert Mueller. He should win an Emmy for this episode!"
"OMG I thought Ben Stiller was perfect, and then we got ROBERT DE NIRO AS ROBERT MUELLER."
"OK, De Niro gets my vote to play Mueller in the movie."
Beyond the very welcome Meet The Parents references, the skit also included exchanges like De Niro's Mueller asking, "Are you a lawyer?", and Stiller's Cohen responds, "-ish." Then, De Niro's Mueller asks if President Donald Trump knew about the $130,000 payment from Cohen to Stormy Daniels (Cohen has confirmed the payment but says it was unrelated to the 2016 campaign), and when Stiller's Cohen answers "no" to that question, the lie detector seems to show his answer isn't truthful.
After the "milking" reference, De Niro's Mueller assures Stiller's Cohen the investigation isn't "prejudiced against the president," as Stiller's Cohen suggested. De Niro says the FBI even uses code names to protect identities, and he reveals the president's code name "used to be Putin's litte b*tch," and now it's "Stormy's little b*tch." As for Cohen's codename, De Niro's Mueller said it's "dead man walking."
De Niro and Stiller were the unexpected stars of this lie detector skit, but those following the Stormy Daniels story will remember Daniels recently claimed she was administered a lie detector test in 2011, and the polygraph's reports revealed Daniels was likely telling the truth about her alleged 2006 affair with Trump, according to CNN (The White House has denied that Trump had an affair with Daniels).
It's clear SNL had no shortage of references to both Meet The Parents and the current events surrounding the president, and it appears from the positive response that viewers enjoy a dose of nostalgia with their Russia investigation skits.