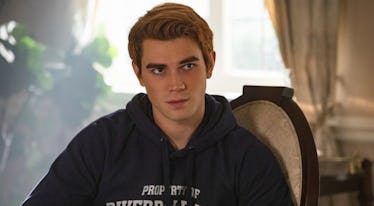 The 'Riverdale' Season 2 Finale Is Going To Be Seriously "Tragic," According To KJ Apa
CW
As if this season of Riverdale has not already been dark enough, the upcoming season finale sounds like it is going to take things to the next level. The show's cast dropped some hints about what is in store for the big finale episode next month, and they really didn't sugarcoat things. From the sounds of these new Riverdale Season 2 finale spoilers, fans might have to watch a main character die.
The new finale hints come from an interview with TV Line, in which KJ Apa, Cole Sprouse, Camila Mendes, and Marisol Nichols detail the grim, devastating episode that will close out the season. Take a look at what each of the cast members said when asked about the Season 2 finale:
KJ Apa: It's a tragedy, really, what happens. I think the last episode, if I were to describe it in one way, it would be tragic — for one person in particular in the show, but for everyone, ultimately.
Cole Sprouse: Jughead's made a lot of enemies.
Camila Mendes: It's the lead-up from everything that's been happening between Archie and Hiram, their relationship… I think we're going to be worried about Archie's fate.
Marisol Nichols: We're going to get a lot of our questions answered that have built up over the season… I would say it's very much a throwback to any gang war, and I'm excited for people to see that.
The common thread between all the responses is clear: Something disastrous and potentially heart-breaking for fans is coming in the finale, which is entitled "Brave New World." KJ Apa underlines that the best word to describe the episode would be "tragic," and Camila Mendes shares that fans will be worried about Archie's fate. Cole Sprouse and Marisol Nichols' responses offer a bit more details about the plot of the episode, which sounds like it will center on an all-out war between the Southside Serpents and the Northside.
Season 2 has been ramping up tension between the Southside, led by Jughead, and the Northside, led by Hiram and Hermione Lodge, for a long time now, so a big battle does seem imminent. That would also play into Mendes' comment about "Archie's fate," since he has been placed in the middle of these two sides, forced to choose between his friends and family or Veronica and becoming Hiram's protégé. Disappointingly, Archie has been choosing Hiram's side consistently throughout the last few episodes, so it will be interesting to see if he remains true to the mafia boss in this big final battle or finally decide to rejoin Jughead's cause.
The biggest standout line from those responses, though, is definitely KJ Apa saying that the finale episode will be tragic "for one person in particular." Hmmm, that sounds a lot like there's going to be a character death in the finale. That would not be too shocking for the show, considering how the Season 1 finale ended with Fred Andrews getting shot by the Black Hood. And we also know that the show's number one murderer the Black Hood is making his comeback prior to the finale.
So, who might be facing down a bullet in the Season 2 finale? Well, going off the cast's responses, two of my best guesses would be either Hiram Lodge or F.P. Jones. I know that Camila Mendes said we would be worried about Archie's fate, but c'mon — they're not going to kill the main character, right? I don't think Riverdale has reached Game of Thrones level yet. Anyway, it seems clear that the finale will pit the Southside against the Northside in a deadly battle, which puts the two figureheads of the communities in crosshairs.
To me, F.P. Jones sounds like the most likely to be killed. I don't think the cast would describe Hiram's death as necessarily tragic, and Cole Sprouse also brought up that Jughead has made a lot of enemies, which may be a hint about Hiram getting revenge on Jughead by killing his father.
It's all just guesswork right now, but we will find out what really goes down when the Riverdale Season 2 finale airs on May 16.