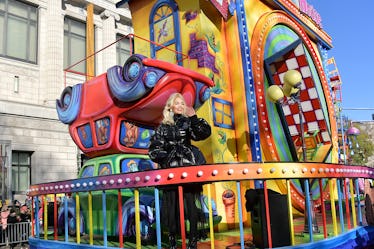 Rita Ora Was Lip Syncing At The Macy's Thanksgiving Day Parade, But She Has A Reason Why
Michael Loccisano/Getty Images Entertainment/Getty Images
Sometimes, on Thanksgiving Day, things don't go according to plan. The turkey might turn out a little dry, or the dinner rolls don't get put in the oven. You hit a ton of traffic on the way to your family's big dinner, or the dessert has beef and peas in it. (Any fans of Friends and Rachel's trifle out there?) But, when all is said and done, these mistakes and mess-ups aren't too bad. Everybody still has a great time, despite the cringe-worthy moments and sweet fails. This year, Rita Ora's 2018 Macy's Thanksgiving Day Parade performance seems to be one of those moments, based on all of the reactions on social media.
Next to going to a football game, running a 5K, or eating mashed potatoes, watching the Macy's Thanksgiving Day Parade is a tradition for a lot of people across the country. It's the one time of the year you can tune into giant balloons shaped like Snoopy and your favorite animated characters, floating down the streets of New York City.
There are a bunch of floats and performances as well, including high school bands, Broadway dancers, and your favorite celebrities. This year, the guest appearance list included: Diana Ross and her daughter, Tracee Ellis Ross (Shoutout to ABC's Black-ish); Pentatonix; Tina Fey (Can we bring back another season of 30 Rock, please?); Kelly Clarkson, and Fifth Harmony's Ally Brooke. But, right now, the Internet is talking all about Rita Ora's moment in the spotlight, when it seems things started to go wrong.
According to the Huffington Post, the singer missed the cue for her new song, "Let You Love Me." And whether it was something on technology's end or hers, the performance never got back on track. The result was something very similar to when you're streaming a television show. You know, when the audio comes through before the video? Here's a clip so you can see it for yourself in case you missed it:
From the video, you can clearly tell that she's at least a few lines off. But, you have to give her props for smiling and keeping her spirits high. Despite the mix-up, she continued on. And that deserves a round of applause. *Cue the endless claps for Rita Ora.* Being a performer isn't easy, and it's certainly not the first time this sort of mishap has occurred for an entertainer.
Of course, moments like these make their way onto the Internet, though. Everybody shared their opinions and reactions in tweets, memes, and GIFs. Sometimes your favorite sitcoms just know how to explain your feelings the best.
Personally, I'm not one to judge — considering I'm not a famous singer-songwriter, nor do I know the technical end to these kind of performances. And celebs and fans voiced on Twitter the behind-the-scenes of this event — that lip-sync performances are required, due to the inability to host a live one. John Legend was one of these artists that set the record straight:
Ora responded, calling the whole situation "annoying," and the response feels spot-on. She has seemingly already moved on from the whole thing, continuing her comment with, "...anyway!"
Macy's then responded to the events, defending the artists who experienced technical difficulties that impacted their performances, and apologized.
Long story short: Rita Ora's lip-syncing situation was unfortunate and one that likely no one would want to experience. Which is why the artist decided to move on and focus on what's next — new music.
Ora tweeted out reminding fans that her new album, Phoenix, that is currently number one in Australia, went live at midnight on Nov. 23. So, you have a bunch of new music to remind you why this British singer is a star. You can stream this follow-up album, like right now!
Last but not least: Ora made sure to mention to fans that the vocals at any of her shows are always live, as well, before wishing everyone a happy holiday season in both tweets. You too, Rita Ora!