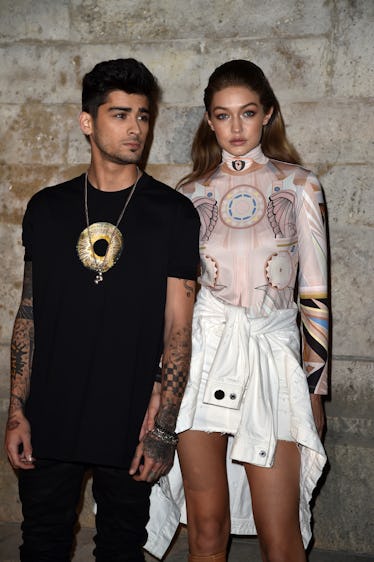 Zayn's New Song With Nicki Minaj May Be About His Brief Breakup With Gigi Hadid
Pascal Le Segretain/Getty Images Entertainment/Getty Images
Oh, dang. Here we go. Zayn Malik just released a new song with Nicki Minaj and the lyrics sure seem like they're about a breakup. In fact, the lyrics lead one to wonder, is Zayn Malik's "No Candle No Light" about Gigi Hadid? Folks will surely remember when the two temporarily split back in March 2018, causing distress and emotional trauma to their die-hard followers. It was an undeniably sad day when reports announced their breakup, but fortunately, Zigi couldn't stay apart. They eventually got back together sometime around the end of April, but still. The release of "No Candle No Light" is stirring up those old, sad feelings.
During the breakup, both Hadid and Malik released official statements that were both sweet and melancholy. Malik posted on Twitter that he and Hadid had an "incredibly meaningful, loving and fun relationship" and that she has "such an incredible soul."
Hadid shared a similar sentiment, explaining nothing could truly explain what their experience together was like but that she was "forever grateful for the love, time and life lessons" she and Zayn shared.
Luckily, by the end of April, they were caught laying on the PDA by TMZ. Thank goodness.
Today, "No Candle No Light" is very reminiscent of Malik's other hits, "I Don't Want To Live Forever" and "Pillow Talk." It's moody, slow, sexy, but you can somehow dance to it anyway. Minaj also offers a smoother version of herself. The lyrics are... I don't know... emotional? Vulnerable? Other things you associate with hurt feelings after a breakup?
It's, like, totally possible Malik put this song together when he was somewhere moping over his temporary split with Hadid, which means it may give insight into what caused their split back then.
Some of the lyrics go like this:
[Verse 1: Nicki Minaj & ZAYN] Hand on your hand, chest on your chest / Tangled in bed but I'm feeling you less / You know my love ain't free, why do you make believe? / Why do you sell me dreams? SMS in the morning like / We gotta, we gotta, we gotta face it / The fire, the fire ain't no longer blazing
[Pre-Chorus: ZAYN & Nicki Minaj] I woke up on the wrong side of ya / You don't even know that I left, do ya? / Can't handle my love, can't handle your lies / No friend zone to my love, quit burning all of my time / I woke up on the wrong side of ya
[Chorus: ZAYN & Nicki Minaj] No candle, no light for you / No candle, no light for you / No candle, no light for you
[Verse 2: ZAYN & Nicki Minaj] I can't do it, no, baby, I can't do it / I only end up losing, who are we really fooling? / It's agree to disagree, some things ain't meant to be / But I wanted you and me
You can listen to the full tune here:
Fortunately, you can enjoy the song knowing all is right with the world once again. In fact, I bet Gigi and Zayn are rocking out together in one of their cars as we speak knowing they've moved past that challenging period of their relationship (if it is in fact about them, of course).
A girl can dream.