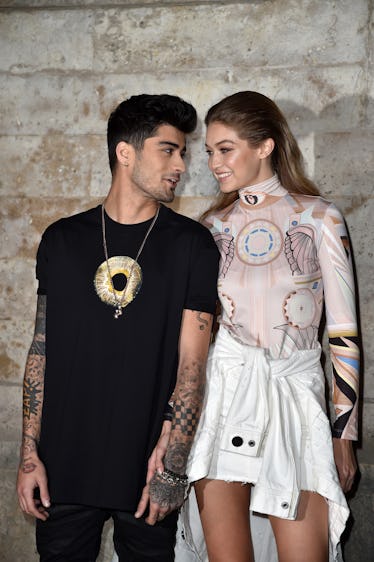 Fans Are Convinced Gigi Hadid & Zayn Malik Are Back Together Because Of This Huge Clue
Pascal Le Segretain/Getty Images Entertainment/Getty Images
This is not a drill, you guys. I repeat, this is not a drill. You need to stop whatever you're doing and listen real hard to what I'm about to tell you, because trust me, it's totally major. You know how Gigi Hadid and Zayn Malik announced their split last month? Well, the two exes were reportedly spotted engaging in a major makeout sesh on April 29 in NYC. So, now I just need to know one thing: Are Gigi Hadid and Zayn Malik back together? Because it looks like the couple might be rekindling their relationship, and OMG please let this be true!
According to TMZ, the exes were totally making out in public. And yes, there are pictures! Young love is just so amazing. I mean, it's been about a month since these guys first called it quits, and I've been hoping for them to re-evaluate their future together as a couple ever since. Remember when Zayn phoned into On Air With Ryan Seacrest on April 13 to promote his single "Let Me," and basically confessed that he wrote it about Gigi?
"I was in love — and I think that's pretty evident," he explained. "I was aspiring to be in love with someone for the rest of my life and the rest of theirs, as we all do. Things change and we move forward in life. Times change, but that's what I was thinking when I wrote it."
It was a heartbreaking admission, but now it looks like the pair may be back together and Zayn may get his wish after all. And, of course, all the ZiGi shippers on Twitter are pretty much freaking out about the news.
Meanwhile, according to Just Jared, the couple even put their PDA fest on pause for a minute to donate a gift card to a homeless man. And, like, see you guys? This is exactly why I love them together! They do good deeds! Gigi is also holding a Starbucks cup in her hand the whole time, which is just so basic that it makes her totally relatable. You know, for a Vogue model. The two actually look totally chill in the TMZ pics, and I have to wonder if their reunion had anything to do with the sweet lyrics the former One Directioner penned for "Let Me."
Baby, let me be your man, So I can love you, And if you let me be your man, Then I'll take care of you, you, For the rest of my life, for the rest of yours, For the rest of my life, for the rest of yours, For the rest of ours.
Sold! Oh and get this — even though Zayn and Gigi were on the outs when he spoke to Seacrest about the song, he told the host that he had zero regrets about writing it. "We go through experiences so we have memories and stories and things to write down and contemplate and think about," he said. "You get to really put your experience into something. It should be remembered forever."
You know what I'll remember forever? This cute moment between Z and G at the 2016 Met Gala:
The night marked the couple's first-ever official red carpet appearance together, and the two of them were seriously stunning. And then she went and touched his face and it was just all so freaking perfect. So here's another question: Since the 2018 Met Ball is just days away on May 7, will we get a repeat performance? Because I really, really need that to happen, OK?