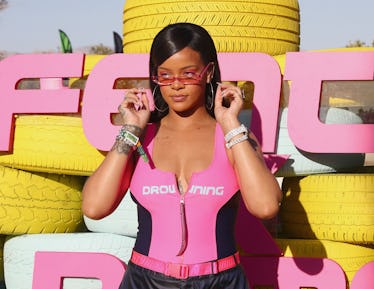 Rihanna's 10-Minute Going Out Makeup Tutorial Is Going Viral & Not Just For The New Fenty Tease
Joe Scarnici/Getty Images Entertainment/Getty Images
Take whatever summer going-out beauty routine you've been experimenting with as of late and throw it out the window because I guarantee you that Rihanna's Fenty makeup tutorial will blow it out of the water. Yes, you read that right, RiRi filmed a 10-minute how-to video for Vogue in which she gives a hilariously narrated step-by-step guide for the glowiest face ever, and it's all kinds of amazing.
Incase you've been living under a rock, Rihanna was just revealed as Vogue's June covergirl. She poses on the glossy in a sheer black top embellished with shimmery silver sequins and looks expectedly incredible. The profile inside covers everything from her upcoming body-positive Savage x Fenty lingerie line to her role in the soon-to-be-released Ocean's 8 to turning 30, and, of course, Fenty Beauty. It only makes sense, then, that Rihanna would create the tutorial of all tutorials to accompany the feature.
Entitled "Rihanna's Makeup Guide to Love, Drama, Summer," the video shows you how to get a stunning summer-perfect look that will outshine the disco ball at any club you might be heading to this weekend. After a few initial outtakes (they are hilarious, don't skip through them), she starts by applying Fenty's Pro Filt'r Soft Matte Longwear Foundation ($34, Fenty Beauty) all over her face, using a blender to buff it into an even finish. "I can do my makeup in 10 minutes or in 10 hours it feels like, sometimes. It depends on what kind of day you're having," she announces to the camera. I think we can all relate.
From there, she uses one of the Match Stix Matte Skinsticks in Mocha ($25, Fenty Beauty) to contour her cheeks, nose, and jawline. "Very important to contour your face, for your face. Not the way you see on every YouTube tutorial. Because everybody has a different shape," she notes. After blending some contour into her hairline ("I hate to see that white line"), she blends it all together with a brush. "I learned how to contour when I gained weight, believe it or not," she says, further verifying that she is the realest of real. "That's when it comes in reeeeal handy, believe it or not. Them fat days [when] cheeks looking like baby cheeks."
Next, she takes her concealer and warms it up by rubbing it on the top of her hand. "Everybody knows concealer is made for hiding bags, and dark circles, and hangovers, and bad decisions," she jokes as she applies the product under her eyes.
She then expertly sets her makeup with powder in a flurry of strokes ("When you get greasy on the fly, honey, it is no joke!") before using bronzer over her cheek contour and on her nose. After filling her brows, she moves onto her eyeshadow, sweeping a shimmery pink shade over her lids (it's an upcoming product!) that looks like fairy dust. "Because it says summer, sunset, love, drama, b*tches," explains Rihanna with a laugh. Agreed.
She uses the same tropical shade as blush (it kind of reminds me of her makeup look for the 2017 Met Gala) and then moves onto layers of highlighter. "I think the key to highlighter is not being afraid of it. " A few swipes of mascara and highlighter in her inner eyes nearly finish off her makeup look, only to be followed by a yet-to-be-released pinkish gold Cosmic Gloss ($19, Fenty Beauty). While applying it to her lips, her eyes bug—it's as if she's shocked by how luminous her own product is.
The cherry on top is a swirling of Body Lava across her collar bone and shoulders, which she applies with her Face & Body Kabuki Brush ($34, Fenty Beauty). "I think I'm ready, woo!" she says to herself in the mirror. "Where are we going tonight? We goin' to the clurb!" If I looked that good, I would too.