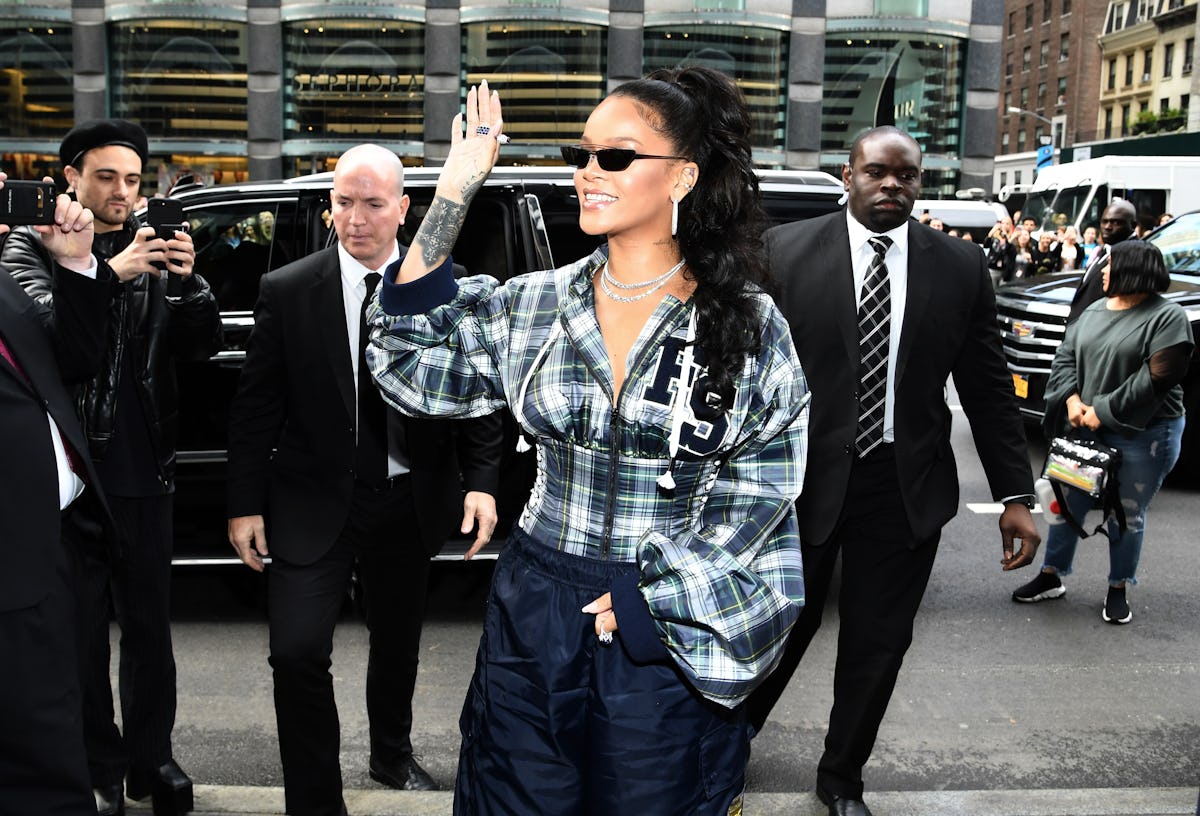 Rihanna's Crystal Gucci Socks Cost More Than Your Rent & She Wants You To Know It
Dimitrios Kambouris/Getty Images Entertainment/Getty Images
Rihanna is the ultimate trendsetter, and she would surely scoff at the idea of wearing someone's sloppy outfit seconds. Thus, the singer is constantly upping her #fashun game, and this time, it involved some rather pricey footwear. No, not shoes. Rihanna's crystal Gucci socks cost more than your shoes, rent, and socks should ever cost.
I usually buy my socks at Target, or Nike if I'm feeling really fancy. Do you honestly expect miss Robyn Rihanna Fenty to step foot (pun intended) into one of those stores, though? I don't. My socks also usually have about four or five good wears in them before the elastic stretches out and they start sliding down my feet with every step I take. I could splurge for some double digit price tag socks and avoid, or at least delay, these problems, but I'm just not there yet. Rihanna, on the other hand, is way past that.
The singer definitely has a penchant for expensive, sparkly footwear (remember these $10,000 crystal boots?) and one of this week's outfits followed suit. Rihanna posted not one, but two photos of her bedazzled Gucci socks, including a close-up, just to make sure the world saw them. We see you RiRi, and we're all with you.
Well damn. Not only did Rih sport crystal socks, she paired them with sexy white pumps instead of running shoes. A fan retweeted the photos Rihanna posted and read my mind exactly: "Never knew I needed Gucci socks until now, thanks @rihanna."
Another member of the Rihanna Navy recaptioned the photo, "'I stay Gucci down to the socks' @rihanna aka San RiRi," and likened the singer to a saint. I don't disagree.
Sock It To Me
As part of my lifelong quest to be more like Rihanna, I tracked town these now-famous foot coverings. All I can say is brace yourself.
The ankle length stockings, a fancy term for socks, cost $1,340! I've been living under the assumption that socks are generally the least expensive part of any outfit, so I don't even know where to go from here. No official advice on the Gucci site on how to care for the socks, but I'm def not alone in wondering if they are dry-clean only. Not that I imagine Rihanna even does her own laundry or dry cleaning. Ah, the life of a bad girl.
As soon as Rih's fans saw the socks, they didn't hold back with their approval.
One follower Tweeted, "I didn't know I needed Gucci socks until Rihanna uploaded that pic 🤤." The drooling face emoji really gets the point across.
This user schooled me on some new slang, "ok but Rihanna's gucci socks are colddddd 😳😍." Being cold is a good thing here, by the way.
This user shares her aspirations, "Goal is to be as extra as Rihanna in life and have sparkly Gucci socks on a casual Wed x." For real though, #goals.
"You cannot even hate Rihanna, she is casually wearing socks and half shoe, cuz you do what you want when you popping," word. The shoes are technically called mules, unless Rihanna starts saying otherwise and I will then appeal to rename them.
Other fans were less accepting of the hosiery. One critic wrote, "I'm a huge admirer of Rihanna but seriously.....$1340 socks?" OK, fair, I can't see myself dropping that amount of dough on socks but c'mon, this is Rihanna I'm talking about here.
The Look For Less
Whether you approve of Rihanna's extravagant socks or not, my guess is that she doesn't care. If you love it but aren't going to drop major dough on socks, I've got a few similar options for you.
If you want to stay with the Gucci theme, the brand also has these shimmery, more traditional socks. Priced at $155, they're still a hefty fee for something that will absorb your foot sweat.
How fancy are these, though? Wear 'em with your own pair of heels and channel the extra vibes of Rihanna.
But if you really want to show of your religious-level devotion for Rihanna, wear her on your feet.