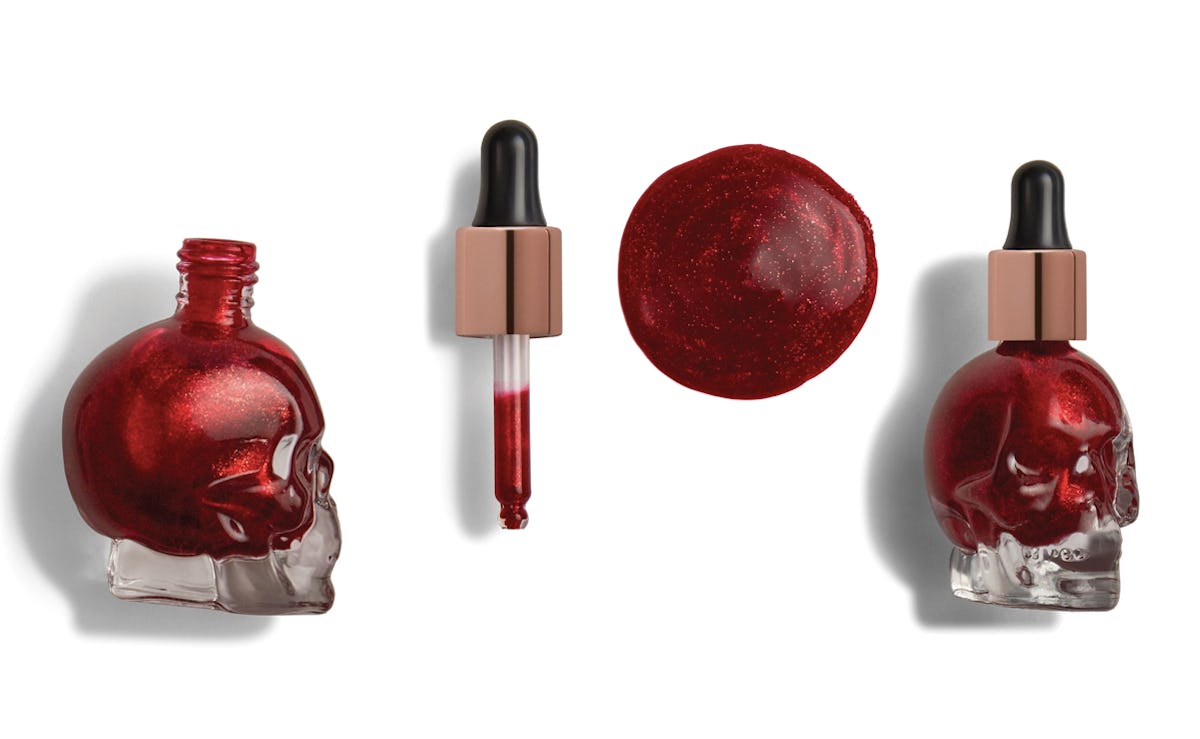 This $8 "Blood Of My Enemies" Highlighter Is Shaped Like The Dead, But It's Giving Me Life
Revolution Beauty
Forget an expensive, one-time-use Halloween costume — this year's must-haves for building a bloodcurdling look can be found right in your makeup drawer. The newest addition to the spooktacular Halloween-makeup products out on the market, Revolution Beauty's Blood Of My Enemies highlighter is as cute as it is creepy, and it's just one a trio of scary-brilliant illuminators. If I were to get these highlighters into my hands, I can't decide if I would use them all up, or keep the liquid inside the bottles, because they just look so freakin' cool.
You can highlight your face with 'em, or you could just prop them up on your spellbinding alter for a deadly seance. Not only can you use these to complete any Halloween look, but you can easily add them to your festive party decor if you're hosting a celebration for the best night of the year.
The Revolution Haunted Liquid Highlighters ($8, revolutionbeauty.com) come in four shimmery shades, with one shade really striking against the rest. The "Blood of My Enemies" is a deep red shade with small, gold shimmery flecks, and could almost be confused for the shade painted on your festive nails every holiday season. Epitomizing its own name, this product might become your next enemy — apparently it's pretty tough to remove. According to the brand's website, "a small drop goes a long way," and they urge customers to "please be aware Blood of My Enemies may stain." Make sure to keep your makeup remover stash fully loaded, and bring in backups if needed (a dab of hydrogen peroxide might do the trick).
Makeup Revolution's site suggests mixing the deep red highlighter "into your foundation, or apply to your cheekbones, the bridge of your nose or cupids bow," but it's hard to picture applying this to my face for everyday wear. I can certainly see myself using this product as a shimmery, bold cream shadow on my lids, or topping my lipstick off with this formula, but if applying anywhere else on my face, I'll stick to just Hallows Eve.
Unlike "Blood of My Enemies", the three other shades in the collection are as wearable as can be, I promise. Named "Lover's Wrath", "Envy," and "Paranormal," they won't stain your face, and can easily replace your everyday highlighter. According to Makeup Revolution's website, the shade Envy is a "white highlight with a green shift," Lover's Wrath is an "ice white highlighter with a purple pink undertone," and Paranormal is an "icy white" shade.
With the pink undertones in the shade Lover's Wrath, I could easily see myself replacing my blush with this highlighter for an all-in-one highlighter/blush duo. I love liquid highlighters because they always look more natural than a powder one, and I live for the dewy effect liquid formulas give.
There are so many highlighters on the market, but none that are as deadly or festive as the Makeup Revolution Haunted Liquid Highlighter collection.
Let's face it: the packaging is almost too sexy to touch. Sparkle at your own risk.