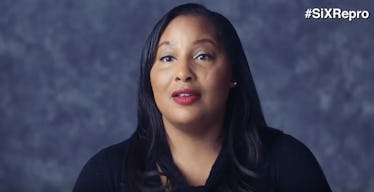 I'm A Black Woman & An Elected Official, & I Had An Abortion. I'm Here To Tell My Story
My story is not unique — it is the story of many black women across this country. I grew up in a very religious household; my dad was a pastor. My parents were loving and supportive and they did an amazing job raising me and my sister. But the only thing they ever told us about our bodies was, "whatever you do, just don't get pregnant." We had to figure our bodies out for ourselves.
In my senior year of college, I found out I was pregnant. I knew immediately that I didn't want to become a parent at that point in my life, and I chose to terminate my pregnancy. I don't regret this choice, and many women make this same choice: One in four American women have an abortion at some point in their lives, according to a 2017 analysis by the Guttmacher Institute.
My abortion experience taught me that the needs of black women are broad and deep when it comes to reproductive freedom. Today, according to research from the National Women's Law Center, black women are overrepresented in the low-wage workforce of jobs that pay less than $11 per hour — filling a vital role for the economy without ample pay. Income should not strip us of the right to plan when to start families. The maternal death rate for black women across the country is horrifying. Black women are three times more likely than white women to die in labor and up to one year after giving birth according to the Centers for Disease Control (CDC). According to a 2018 report by the CDC's National Center for Health Statistics, some of the highest maternal mortality rates for all women are in states like my own, Georgia, where lawmakers have refused to expand Medicaid. We must decide as Americans that women's lives are worth saving at all costs.
After my abortion, I went on to graduate college and pursued a career in business development. I decided to run for office to fight for policies that truly support women, working people, and people of color. I won my first election the same night as Donald Trump, and I was sworn in to the Georgia House of Representatives in 2017.
Since then, the president and ultra-conservatives across the nation have pushed extreme viewpoints — viewpoints that turn into legislation that impacts people's lives by virtue of their power. This includes the administration's work to restrict access to birth control and women's reproductive services both through general legislation and in the cases of individual girls, as well as the president's refusal to denounce white supremacists and the rise in hate crimes that has been correlated with his election.
Conservatives in state legislatures across the country are also pushing extreme and unconstitutional restrictions on abortion, in a clear effort to lay the groundwork to reverse Roe v. Wade, the Supreme Court decision that established abortion as a constitutional right. This includes the recent ban signed into law in Iowa, now the nation's most restrictive abortion ban. Like many American women, I watched in disgust as Trump vowed to appoint Supreme Court Justices that would reverse ​Roe v. Wade, and I've watched as state lawmakers across the country ​have passed more than 400 new restrictions on reproductive rights​ since 2010.
I'm not just watching. I'm fighting back.
In Georgia, 58 percent of women live in counties with no access to an abortion clinic, according to a study from the Guttmacher Institute. Georgia has a majority anti-choice government, with only a few open advocates for a woman's right to choose. Georgia subjects women seeking an abortion to mandatory biased counseling as well as mandatory 24-hour delays. Georgia restricts low-income women's access to abortion in almost all cases.
I'm not just watching. I'm fighting back. Because not only am I a woman who is part of the nearly ​one in four women​ who will decide to have an abortion at some point in their lives; I'm also a state legislator who was elected to serve the people in my community. I've promised to fight for the dignity we deserve to be able to make our own decisions. As a bisexual black woman, I know firsthand that the right to control my body is a basic and essential human right that intersects with many important issues, and should be protected regardless of gender, race, sexual orientation, immigration status, or what zip code you live in.
While my story is not unique, my position in office is. I am currently one of ​275​ black, female state legislators across the country and I have promised those I represent to use the privilege of my public office to advance reproductive justice. I am now on the front lines, fighting back against anti-abortion politicians who seek to impose their extremist views and roll back women's rights. The Georgia legislature has passed restriction after restriction on reproductive rights while failing to take action on the many health care needs Georgia residents face.
We have to be bolder and better. We must advance policies that improve the health outcomes of Georgians — like expanding Medicaid, implementing co-pay free birth control, expanding access to paid family and medical leave, and requiring reasonable pregnancy accommodations in the workplace. We must recognize that reproductive freedom is tied to economic equality. A person's ability to access contraception, abortion services, prenatal care, and other reproductive health services has for too long been diminished or blocked based on income, race, immigration status, age, sexuality, gender, or where they live.
That's why I have joined forces with ​state legislators like myself​ from across the country as part of the new Reproductive Freedom Leadership Council. This cohort of legislators resists efforts to restrict reproductive freedom and instead envision a future in which all Americans can make our own decisions about our reproductive health, pregnancy, and parenting, free from political interference. We have promised to fight boldly and unapologetically for policies that respect and protect women's lives.
I'm telling my story ​because it's time we have an honest discussion about reproductive freedom. Without an honest discussion, we will never advance policies that truly support women, working people, and people of color.