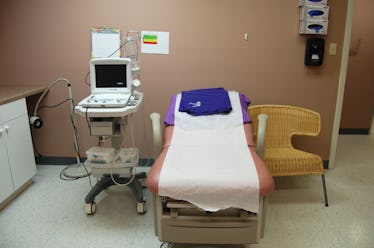 Iowa's "Heartbeat" Abortion Ban Is Nothing New, But It's Not A Great Sign For Women
After 2 a.m. local time on Wednesday, May 2, lawmakers in Iowa passed a so-called "heartbeat" abortion ban, which bans abortions in the state performed after a fetal heartbeat can be heard, per The Gazette. The law would ban abortions after about six weeks into a pregnancy, and considering that the average woman's menstrual cycle is four weeks, with variables, this ban would prevent many women from being able to get an abortion before they even know they are pregnant.
UPDATE: On Friday, May 4, Gov. Reynolds signed the bill into law. Planned Parenthood said in a statement obtained by Elite Daily that they plan to sue the state over the ban. "Gov. Reynolds, we'll see you in court. We will fight for our patients rights and access to care with everything we've got," Dawn Laguens, Executive Vice President of Planned Parenthood Federation of America said in the statement.
EARLIER: The Iowa state legislature passed the bill early Wednesday, and it is now up to Gov. Kim Reynolds, a Republican, to decide whether to sign it into law or not. Reynolds' press secretary, Brenna Smith, told KWQC that the governor was planning to sign it, adding, "Governor Reynolds is 100 percent pro-life and will never stop fighting for the unborn."
As it stands, this is the strictest abortion ban in any state within the United States, which NARAL Pro-Choice America National Communications Director Kaylie Hanson Long called "a cruel and unconstitutional plan to ban abortion before a woman even knows she is pregnant, intentionally preventing access to abortion care completely" in a statement on Tuesday, May 1.
However, there is an important reason why this is the strictest abortion bill currently on the books: Bills that ban abortions a short period into a pregnancy are generally challenged and found to be unconstitutional, as they restrict a woman's access to the procedure, which is constitutionally protected. There is quite a bit of precedent indicating that should Reynolds sign the bill, it would not outlast a legal challenge.
In 2013, North Dakota lawmakers passed a six-week abortion ban. Shortly after it was signed by Gov. Jack Dalrymple, the Center for Reproductive Rights and Red River Women's Clinic, the only clinic in North Dakota, challenged the law, and in 2014, a federal judge overturned it, saying that it "cannot withstand a constitutional challenge." That ruling was appealed, and in 2015, a federal appeals court agreed with striking down the ban. Finally, in early 2016, the Supreme Court declined to hear a case on the law, effectively agreeing with the ruling that a six-week abortion ban is unconstitutional. Additionally, the Supreme Court has refused to hear cases on bans from various states at 12, 15, and 20 weeks of pregnancy, allowing those bans to be struck down by lower courts.
(While the Supreme Court doesn't have a set number of weeks before which they say abortion should be legal, the court has ruled that the procedure has to be reasonably accessible at least up until the viability of a fetus, which happens well after six weeks.)
So, should Iowa Gov. Reynolds sign the new bill into law, it's not likely that it would survive a legal challenge and actually go into effect.
While this specific law may not go into effect, the fact that it went through Iowa's legislature in the first place is not a great sign when it comes to the future of reproductive rights. Throughout the presidential election, Donald Trump stood by an anti-abortion platform, and Vice President Mike Pence has a highly anti-abortion political history and personal stance. The Trump administration has already damaged global abortion access and has been navigating its options to further restrict domestic abortion access. President Trump also nominated Neil Gorsuch, a conservative, to the Supreme Court, which could impact future rulings on abortion cases.
Many believe that the Trump presidency has emboldened state lawmakers to introduce more anti-abortion laws — in fact, Dawn Laguens, executive vice president of Planned Parenthood Federation of America, said in a statement obtained by Elite Daily that the Iowa bill is "one more example of state politicians, emboldened by the Trump-Pence administration, carrying out policy after policy that strip away people's freedoms and access to care."
Still, TBH, there are always a ton of anti-abortion laws popping around in state legislatures, so it's hard to know if the administration had a direct hand in that. What is clear, however, is that it is vital to pay attention to local laws, not just what's happening in D.C.