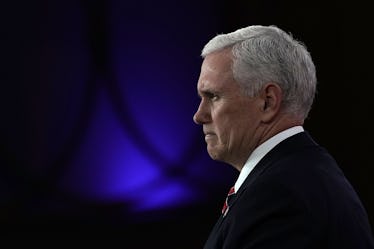 Mike Pence Thinks Legal Abortion Will End "In Our Time" & It's So Troubling
Alex Wong/Getty Images News/Getty Images
Vice President Mike Pence has long been a pro-life proponent in his time as a public official, and he's brought that same agenda to the White House. But not until now have we heard such a declarative statement from the vice president, and it's pretty concerning. At a conference sponsored by a pro-life organization, Mike Pence suggested that legal abortion will end "in our time" — and just the thought of this actually becoming a reality is troubling, to say the least.
Pence traveled to Nashville, Tennessee on Feb. 27 to attend a luncheon hosted by the Susan B. Anthony List & Life Institute, according to The Hill. The anti-abortion non-profit organization aims to help men and women who will advocate and push for pro-life legislature in government to be elected to office. Given Pence's pro-life track record as a politician, naturally he was in attendance. And the comments Pence made regarding the future of legal abortion in the United States are definitely cause for concern. "I know in my heart of hearts this will be the generation that restores life in America," Pence said, per The Hill. "If all of us do all we can, we can once again, in our time."
This statement is alarming for a number of reasons, not least of which is that the Trump administration has already made some major strides in pushing their pro-life agenda.
On his working first day in office in January 2017, Trump dramatically expanded a ban on U.S. foreign aid going to organizations that promote or provide abortions, meaning that organizations that even mention abortions as an option are prohibited from receiving the funds. More locally, on April 13, 2017, Trump signed a bill that allowed states to remove federal funds from agencies, like Planned Parenthood, that provide abortion services. And on Jan. 19 of this year Trump introduced a new regulation that protected medical professionals who refuse to perform abortions. Possibly most troublingly of all, Trump has put numerous anti-abortion judges into district courts and district appeals courts, potentially making legal recourse to protect abortion rights more difficult.
Trump has made it clear that he will continue to fight for the pro-life cause as president in his years to come. At the March for Life on Jan. 19, Trump stated, "Under my administration, we will always defend the very first right in the Declaration of Independence, and that is the right to life."
Abortion has been legal in the United States since the landmark 1973 Supreme Court case Roe v. Wade — although depending on which state you live in, it can be harder or easier for a woman to access her right to an abortion. Pro-life advocates in Washington have been trying to fight for their beliefs, and Pence is perhaps the most vehement about eliminating women's right to choose. He's been trying to defund Planned Parenthood since 2007 and, as vice president, voted in the Senate to allow states to do so in May 2017.
As Pence's comments indicate, it looks like this administration is looking to reach beyond just making an abortion hard to get — he believes that abortion will become illegal altogether, which is a pretty frightening thought.
This wasn't the only speaking engagement that Pence had during his trip to Tennessee.
He also attended the National Religious Broadcasters' 75th annual meeting on Feb. 27 and made equally alarming declarative statements on how the Trump administration will address the issue of abortion during their Tenure at the White House. According to The Tennessean, Pence stated, "Allow me to bring greetings to you from the most pro-life president in all of history, President Donald Trump." And this isn't the first time Pence has said that Trump is the "most pro life" either. So, yikes.
So the fact that he is making it clear that this administration is only just starting to tackle their pro-life agenda is incredibly concerning. The statements Pence made in Nashville have prompted a response from the pro-choice advocacy group NARAL Pro-Choice America. The group's Communications Director Kaylie Hanson Long said in a statement,
The comments today made by Mike Pence, who lives and breathes an anti-choice agenda, are indicative of how much this Administration is trying to 'normalize' the idea of a world in which women don't get to decide their own destinies or control their own bodies. This is the future that Mike Pence envisioned today, and it's a future that the majority of Americans reject. We look forward to when Mike Pence's tenure in the White House ends, which will most certainly be "in our time."
So there is lots to be worried about here, especially considering that Trump's White House will only continue to ramp up their pro-life efforts. So if you care about women's right to choose, my best advice is to make it known and head to the polls in the upcoming 2018 midterm elections. After all, screaming at your computer screen can only do so much.