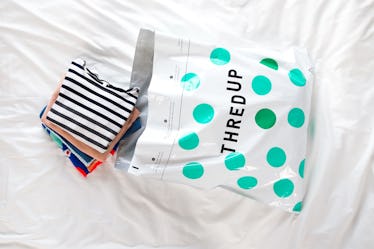 Here's How To Score Free Outfits From This Trendy AF Brand, Just By Donating Your Old Clothes
thredUP
2018 isn't that far from ending (um, when did that happen?!), which means it's nearly time to look back at your New Year's resolutions for the year and see where you came out. If you're not doing so well as it stands, fear not. Reformation x thredUp's clothing recycling program is here to help you help the earth in ways that really count, meaning you'll be able to make up for lost time in a snap. The best part? By giving back you'll also get back. There's nothing better than that!
Today marked the launch of secondhand marketplace thredUp's new online platform called Upcycle, which helps existing retailers launch a clothing recycling program. As part of the program, brands will provide their customers with "Clean Out Kits," which they'll be able to use to ship their old clothes to thredUp, where they will be assessed and, if viable, re-sold. Those that aren't deemed re-sellable will be responsibly recycled. Rather than paying the customers in cash, thredUp will then pay them via a gift card that can be used at the partnering brand's store.
"At thredUP we believe in extending the life of clothes and the positive impact reuse can have on our environment," said James Reinhart, CEO and Founder of thredUP, in a press release. "So many brands share our vision, but they don't know where to start. thredUP UPcycle will help retailers capture the value sitting in their customers' closets, while advancing a more circular economy. It's a win for business, for our wallets and for the planet."
Essentially, by giving old clothes away that might otherwise end up in landfills you'll be able to shop for new clothes in return. Pretty cool, right?
The program launch is exciting enough in itself, but when you couple it with the fact that Reformation, AKA the coolest Cali brand ever, is thredUp's first partner, it almost seems too good to be true.
"We're really happy to partner with thredUP to launch their UPcycle Program," Yael Aflalo, Founder & CEO of Reformation, said in a press release. "We started Reformation to create a sustainable way to be fashionable and because we believe consumers have the buying and selling power to eliminate waste. The partnership with thredUp supports our recycling and reuse efforts, and adds even more easy options to shop responsibly."
Starting now, October 2, you can print a Reformation x thredUp Upcycle Kit (all Reformation orders through May 2019 will come with one) and slap it onto the box of any clothes you've been looking to get rid of. Ship the box, wait for your Ref gift card to come through, and shop away for a new fall dress or two. As an added bonus, customers who send clothes by December 31 will get 15 percent more than what thredUP normally pays  onto their gift cards.
According to a press release, "thredUP and Reformation forecast that they will divert 730,000 items from landfills with this program — surpassing Reformation's 2018 apparel recycling goal by nearly 10X." Considering fashion is one of the most polluting industries in the world (it's second only to oil!), that is some seriously needed positive impact.
Time for a major closet clean, don't you think?