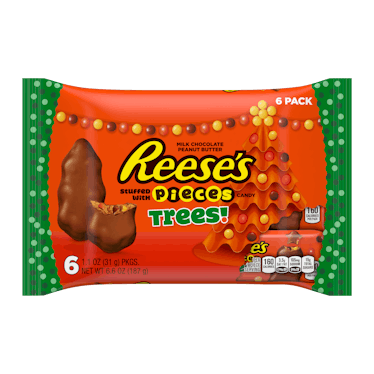 You Better Believe These New Reese's Trees Stuffed With Pieces Are On My Christmas List
Reese's
'Tis the season to indulge in all kinds of wintertime sweets. If you're anything like me, that means cookies, cakes, pies, cheesecakes... and also a new festive treat from Reese's. I'm talking about Reese's Trees with Pieces here, folks. With their cute shape, flavorful taste, and creamy texture, Reese's Trees with Pieces will surely become your new holiday favorite.
So what are they, you ask? They're only the cutest little treats you'll ever lay eyes on. The peanut buttery chocolates come in the shape of a Christmas tree (although it may or may not look like a blob — you be the judge). But, no matter what you think they look like on the outside, they are so, so yummy on the inside. The treats are stuffed with creamy Reese's peanut butter and peppered with those crunchy Reese's pieces candies that just melt in your mouth, resulting in a delightfully yummy snack that'll easily make all of your holiday dessert dreams come true.
I don't know about you, but this sounds like peanut butter and chocolate heaven to me. They also come in individual sizes ($0.99), so you can balance the serving out with your holiday feasts. Or, you can get them in a 6-pack size ($3.99) and use them for cute stocking stuffers. (Or keep them to yourself and eat them all in one sitting. I won't judge.)
All you need to bring it full circle is a cup of boozy hot chocolate or a cold glass of milk and a Christmas Hallmark movie. It doesn't really get any better than this, my friends.
As the holidays inch closer and closer, there are tons of seasonal snacks hitting the shelves. So in case you're somehow not a fan of Reese's, there are still some sweet holiday options for you — like, say, these new Hot Cocoa M&Ms, and yes, you read that correctly.
According to Target, each individual M&M contains layers on layers of rich milk chocolate. Smashed between those layers is a white chocolate marshmallow-flavored center that melts right on your tongue. Sorry, my mouth is suddenly watering uncontrollably...
OK, I'm good. But um, what? I'll have two (or 10) of those please. What's even more exciting is the fact that they only cost $3.19 per pack, so you won't break the bank while fulfilling your sweet tooth. If interested, the treats can be found at Target stores beginning in mid-November.
Now before you frown at the thought of having to travel to Target just to get your hands on them, let me just say that they've also got some other yummy things you can toss in your cart, so it's definitely worth the trek. The store is offering Dove Hot Cocoa, Ghirardelli Toffee Cookie Crunch, Lindt Snickerdoodles, and Reese's Santa's Helpers, so there's endless amounts of chocolate-y goodness for you to indulge in.
The holidays only come around once a year, so whatever you're into, you better get it while you can so all of your holiday dreams can come true. Ah, wintertime. It really is the most wonderful time of the year.