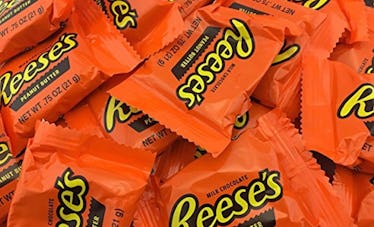 Reese's Is Making A Thinner Peanut Butter Cup So You Can Fit More Into Snack Time
I have a secret to tell you guys. One of my guilty pleasures is shoving bags of Reese's Peanut Butter Cups into my pockets and saving them for later. Between their peanut buttery insides and chocolate coatings, they're perfect post-work pick-me-ups. But sometimes, I can't fit too many inside my pockets. Why? Because they're kind of, well, big. Don't get me wrong: I love a hefty Reese's serving, but sometimes I wish they could be a little tinier so I can save more for snack time. Thankfully, Reese's Thins are coming in 2019 — and I'll be able to fit even more into my pockets than ever before.
Yes, you read that correctly. A smaller version of Reese's Peanut Butter Cups will become available in March 2019, and they will be called Reese's Thins, per Today. Before you panic about the candy being smaller than before, rest assured that original Reese's Peanut Butter Cups will still be available. The Reese's Thins, however, will be 40 percent thinner than the original product. In other words, you'll be able to save multiple Reese's Thins in your purses and pockets for convenient snacking. I don't know about you, but I think that sounds like a pretty great deal.
Hershey announced the news about Reese's Thins during a quarterly earnings call on Oct. 25. During the discussion, Michele Buck, the president of Hershey North America, talked about the upcoming treat. She said that the product "appeals to those consumers who want something sweet with more permissibility."
Aside from their "permissible" size, Reese's Thins aren't too different from their thicker counterpart. According to the transcribed phone call, Reese's Thins will come in both milk and dark chocolate, and will be individually wrapped. Buck revealed that they'll also be available in "newly-designed take-home bags."
To be honest, I kind of wish they were going to be available for Halloween 2018. Although, I'd probably eat most of them before having the chance to give 'em away.
In the meantime, Reese's lovers will have to wait until March 2019 to try the tinier chocolate candies. Elite Daily reached out to Hershey to see where Reese's Thins will be available after they're released, but has not heard back by the time of publication.
Although most Reese's enthusiasts are stoked about the upcoming chocolate candy, some of them are pretty upset. Why? Because they don't want thinner Reese's Peanut Butter Cups; they want thicker ones.
One user thinks that Reese's Thins are a "cruel and unusual punishment."
Nah.
"NO NO NO NO."
As you can see, most people are very serious about the size of their Reese's Peanut Butter Cups. However, they don't seem too concerned about the shapes of 'em. If you're someone who doesn't care what your Peanut Butter Cups looks like, check out these Halloween Reese's Peanut Butter Cups. They're shaped like ghosts and pumpkins — and they'll totally get you into the spooky spirit.
Whether you choose to snack on the original Reese's Peanut Butter Cups, Reese's Thins, or Halloween Reese's, you're sure to enjoy their peanut buttery flavor. That, my friends, is something that will (hopefully) never change.