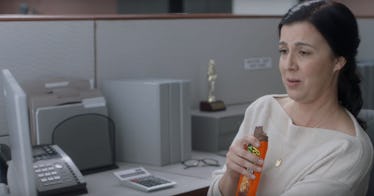 Reese's First-Ever Super Bowl Commercial Is Basically Filled With Dad Jokes
Reese's will air a Super Bowl commercial for the first time ever on Sunday, Feb. 2. You might be surprised to learn the iconic candy brand's first appearance at the big game doesn't even focus on the ever-popular peanut butter cups. In fact, Reese's 2020 Super Bowl commercial is all about the Take 5 candy bar. Oh, and it's basically just filled with dad jokes — so get ready to laugh.
Reese's is using its moment during the big game to remind you about Take 5, which was rebranded as Reese's Take 5 in the summer of 2019. It turns out Reese's peanut butter was one of the ingredients in Take 5 all along, and now, Reese's is using the Super Bowl to remind fans about this tasty treat. The brand will air a 30-second commercial on Sunday, Feb. 2, but you can watch an extended cut on YouTube before then.
The commercial starts with a woman, Trish, eating a Take 5 bar at her desk. Her co-worker then asks her what she's eating. She nonchalantly says it's a Reese's Take 5 bar, and then she lists off the ingredients: chocolate, peanuts, caramel, peanut butter, and pretzels. Her co-worker says he's never heard of it, and Trish asks, "Where've you been, under a rock?" And what do you know, her co-worker is working out of a hole in the office floor, typing on his laptop while underneath a rock.
The Reese's commercial takes on a ton of English idioms and imagines them literally, turning them into the most elaborate dad jokes you've ever seen. TBH, right after you roll your eyes like you would when your dad says, "I didn't get a haircut; I got 'em all cut!" you'll probably let out more than a few chuckles.
As the commercial goes on, the literal interpretations of the phrases get more and more ridiculous. "Were you born yesterday?," Trish asks, which then cuts to a baby typing on a laptop, and a man's response of, "Really, Trish?" Other idioms come to life include a woman who was "raised by wolves;" a "clueless" man is shown watering his computer keyboard instead of the plant on his desk; and there's a man with his head literally in the sand.
The whole thing is a lot to take in, and you might need to watch it a couple of times to truly appreciate all of the dad jokes. Watch the extended version on YouTube now, and you can see the final version during the Super Bowl on Sunday, Feb. 2 at 6:30 p.m. ET.