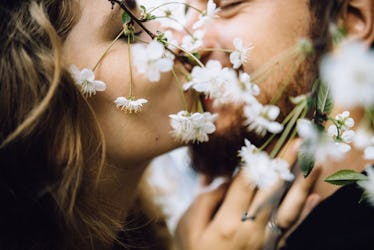 5 Daily Affirmations To Recite When You're Ready To Say "I Love You," Because It's Time
Whenever I've been ready to say "I love you" to someone in the past, I often felt like there was a war raging inside my mind. On the one hand, I felt like I wouldn't be able to hold it back and it was just going to come tumbling out of my mouth. But on the other, I was terrified to say it was because I felt like, once it's out there, there's no taking it back. It can be really scary to open up your heart and be vulnerable with someone. But if you feel the time is right, daily affirmations when you're ready to say "I love you" might be just the thing to give you the confidence boost you need to speak your truth.
You may be surprised at just how effective this method really is in helping you get over your nerves. "Affirmations (meaning statements said with confidence about a perceived truth) have helped thousands of people make significant changes in their lives," psychotherapist Dr. Ronald Alexander wrote on Psychology Today. "An affirmation can work, because it has the ability to program your mind into believing the stated concept." So, why not put that to work in a way that helps build up your confidence? If you're not sure what affirmations will help, here are some ideas for bravery-boosting affirmations to help get you started.