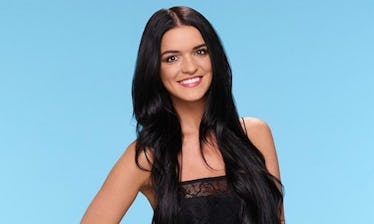 Raven Gates Talks 'Bachelor' Beauty Secrets, Advice For Becca, & When She May Be Engaged — EXCLUSIVE
ABC
Never did I think I'd get the chance to sit down with Bachelor franchise favorite Raven Gates while playing a glorified game of laser tag, but here we are. As I walk through the themed Soap & Glory event, bright pink and loaded with Insta-worthy photo opps, I see Gates lounging on a couch and absolutely glowing. No, really, you can spot her highlight from a mile away, and all I'm thinking is how much I want that highlight on my face, too. Luckily, her warm welcome is just as bright as her cheekbones, as I soak in Gates' best Bachelor beauty tips, the unexpected advice she has for Becca, a major update on her relationship, and even more.
Sitting down with Gates in honor of Soap & Glory's launch of their new Call of Fruity scent, I immediately think, "Damn, can you teach me how to do that with my face?" I'm not even kidding, I straight-up assume this is someone who knows her way around a makeup kit. She had to have learned how to do this from a team of professionals, I think to myself. Maybe I should go on The Bachelor and get their makeup artists to teach me all The Things.
To my surprise, though, Gates schools me on the behind-the-scenes beauty operations on The Bachelor. And let's just say, I now have a mad amount of respect for every single woman who graces the show.
"We actually don't get professional makeup artists. We teach ourselves," Gates tells me. "But we did have some girls who did makeup on the side, so it was basically having a professional makeup artist beside you."
Gates continues that only the lead on the show (i.e. The Bachelor or The Bachelorette themselves) is lucky enough to sit back and relax in the hairstylists' and makeup artists' chairs. As for everyone else, it's like Gates says: You're left to fend for yourself, assuming you're not lucky enough to buddy up with a contestant who's a makeup pro on the side. Even then, though, Gates says you have to be wary of whom to trust.
"You have to be careful, because you're competing with these girls, and they might be telling you something crazy," she says.
After watching Gates on Nick Viall's season of The Bachelor, again on Bachelor in Paradise, and perusing through her Instagram, I'd say she's doing just fine slaying the beauty game. That all said, Gates does share with me a few of the biggest beauty tips she learned "from the girls" while being on the show.
"So I wasn't a big stick highlighter [fan] until The Bachelor — like [highlighting and contouring] with a stick. I learned all the tricks with that: how to blend, how to highlight the proper places on your face," she says. Another beauty product she had never tried before the show? False eyelashes. (Which, like, same. My eyes reject falsies like my body rejects vegetables usually.) According to Gates, "everyone had them on The Bachelor, so eyelash strips were key."
Essentially a seasoned beauty professional now, Gates seems to have her beauty routine on lock — and I mean really on lock. When I ask her about her favorite drugstore beauty products of all time, she literally pulls them out of her purse for me, just to show me how worn down they all are, because yes, she uses them that much!
Among her favorites is Soap & Glory's Highlight & Sculpt Cheek Stick ($12, soapandglory.com), which Gates describes as her "go-to." I'm not even lying, Gates can't tell me the shade when I ask because the label is so faded, so it has to be good, right? She tells me that she also constantly reaches for the brand's Righteous Butter ($15, soapandglory.com), which she wears "every day." "I put it on at night, I put it on in the morning, and I smell good all day, and it's not too heavy," she says.
Given Gates' love for Body Butter, I think it's safe to say she's probably feeling one of Soap & Glory's newer launches: the No Woman No Dry Body Butter ($15, soapandglory.com). This is just one of the new products made with the brand's new Call of Fruity scent, which contains "notes of hibiscus, juicy cantaloupe melon, and cedarwood," according to the brand's website.
While Gates may have gotten some pretty stellar beauty advice while on The Bachelor, she also has some great advice to give — to Becca Kufrin, this season's Bachelorette. However, Gates' advice isn't about beauty. Rather, as Kufrin enters the final stages of her season and gears up to choose between contestants Garrett and Blake, Gates has some wise thoughts about how Kufrin should choose.
"I know most people would say follow your heart, but I would say, think logically. Your heart can trick you; you can fall in love with anybody," she tells me. "As my mom says — I don't know if this is a Southern thing or something she just says — you can fall in love with a one-eyed hedgehog, and it doesn't mean you need to be with a one-eyed hedgehog. So, I think you just need to think logically about how, logistically, your relationship is going to work and [if] they want the same things."
In short, Gates continues that, as powerful and important as love is, "love isn't everything" at the end of the day. Low-key, where was she when I was in high school and desperately in need of this prime love advice?
Well, if there's anyone qualified to be giving love advice, I'd say it's Gates. She found love on this past season of Bachelor in Paradise with Adam Gottschalk, a contestant on Rachel Lindsay's season of The Bachelorette. I mean, have you seen these two on Instagram? They're literally the second cutest couple on the planet. (Sorry, Raven, my GF and I are the cutest by default.) Let's just say that, if we're taking Gates' word for it, she and Gottschalk are just as in love as they seem on social media.
"I really love that person [Adam]," she gushes. "Posting on social media can be sort of a facade, especially when it comes to relationships. But every time I talk about him, I do get butterflies, and I've never been this person, so that tells me he's the one for me, you know?"
She continues that she used to poke fun at Gottschalk being so in love with her at the start of their relationship by singing Mariah Carey's "Obsessed" to him. But as of late, she says she's the one who's head over heels: "Now, it's reversed. I'm so obsessed with him. And he's like, 'Why are you so obsessed with me?' He is such a good dude."
So if these two lovebirds are so obsessed with each other — and since it feels like a million celeb couples have gotten engaged recently — can we expect a ring on Gates' finger sometime soon? Well, Gates tells me that she and Gottschalk have already moved in together, as well as when (well, sort of) we might be able to expect an engagement between the two. (Don't mind me, I'm just screaming to the high heavens in joy just thinkin' about it!!!!!)
"It's just all coming together," she reveals. "But he did tell me the other day, 'Would you be OK with a winter engagement?' And I said, 'Yes, but don't tell me any more! I want to be excited and surprised!'"
UM, EXCUSE ME, ADAM, CAN YOU TELL ME IF YOU MEAN THIS WINTER? NEXT WINTER? Please elaborate! This is crucial information!
While it's obviously unclear which winter Gottschalk was referring to, I guess we'll just have to keep our eyes peeled for a gorgeous ring to pop up on Gates' Instagram. But don't worry, guys, she's just as excited about the possibility as I am, concluding, "Hopefully they [fans] can expect a ring soon!" You heard it hear first, Adam — we're all waiting.