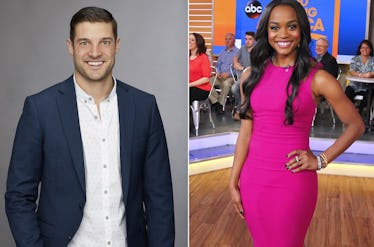 Here's How Rachel Lindsay Thinks Becca Should Handle Garrett's Instagram Controversy
ABC/Craig Sjodin/Lou Rocco
There are just three finalists left on Becca's Bachelorette journey and the fantasy suite dates are right around the corner. But this season has not been without controversy, including news that surfaced back in May that contestant Garrett Yriogoyen had "liked" offensive posts on Instagram prior to filming. Garrett has come this far, so how should Becca deal with the situation if he happens to win it all? Rachel Lindsay's advice for Becca about handling the Garrett Instagram scandal has a serious point. From one Bachelorette to another, Becca needs to "have a game plan of how they're going to face the media."
First impression rose-winner Garrett made headlines at the beginning of Becca's season when it was uncovered that the Nevada sales rep liked a series of controversial posts on social media. According to The Huffington Post, Garrett Yrigoyen "appears to have a history of liking social media posts that mock trans people, undocumented immigrants, left-wing women and one Parkland high school student." The Instagram account linked to those likes has since been deleted and Garrett apologized for his actions.
"I am sorry to those who I offended, and I also take full responsibility for my 'likes' on Instagram that were hurtful and offensive. garrett_yrigs12 was my former Instagram handle and I decided to take it down and start fresh because I have learned an extremely valuable lesson and am taking steps to grow, become more educated, and be a better version of myself," a portion of his statement read.
Becca additionally commented on Garrett's behavior. The Season 14 leading lady told E!:
I've just been so busy traveling around the country with press that I haven't really been able to read too much up on it. But everyone is entitled to their own opinions, and at the end of the day, I wanted to go on this journey to open up myself and have people see my love story unfold, and I would hope that they would stay open and respect me but also stay open and respect these 28 guys that went along on the journey with me.
Though something tells Bachelor Nation this isn't the last time it's going to come up. A joint media tour could be on the horizon if Garrett and Becca end up together, or even if they don't — Becca likely has a great deal of press in her future, not to mention "After the Final Rose" and any subsequent specials.
How should Becca take on the Garrett scandal both in the public eye and in her personal life? Allow Season 13's Rachel Lindsay to offer up some wise words.
"They have to talk about it," Rachel explained to ET. "Becca's a liberal and the things he was liking were very conservative, far right, more than conservative [and] a little offensive. So I think they need to address it now and have a game plan of how they're going to face the media."
Rachel dealt with a similar scenario when one of the suitors on her season, Lee Garrett, allegedly had a history of sharing racist tweets.
"I addressed it, I said, 'If you need a history lesson, I can give you one backstage.' That's how I would deal with it," the attorney added, recalling her experience. "I would have to address it head-on and I'd be pretty tough about it."
Time will tell if Becca will have to continue to confront the controversy moving forward.
The Bachelorette airs Monday at 8 p.m. ET on ABC.