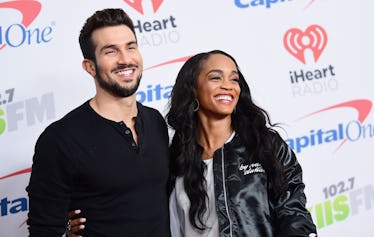 Rachel & Bryan From 'The Bachelorette' Reveal Big Wedding Details & We Can't Wait
Emma McIntyre/Getty Images Entertainment/Getty Images
The time has come to say "I do," and fans are more than ready for this reality-TV couple to get a happily-ever-after. Rachel and Bryan from The Bachelorette are getting married in 2018, so it's only appropriate to commence swooning (no judgment here, folks). It seems like ages ago since that final rose was given out, and #BachelorNation is more than ready to hear every last detail about the ceremony.
Although the timeframe for the wedding hasn't been revealed, the two will definitely take their vows this year, according to People. Another thing that's up in the air? The location. The lovebirds were considering a destination wedding, possibly in Colombia, so there's certainly a lot to organize before making any grand reveals. (How nice does a tropical destination sound when you're experiencing 20 degrees?)
One can only hope that ABC will be able to capture some footage from this special ceremony, but reality TV lovers might have to hang tight. It hasn't been confirmed whether or not the big day will be televised. They can't have every moment on live TV, though after a season of waiting patiently, fans might disagree (yes, this franchise is commitment for sure).
Although the planning process is still underway, Rachel did say she was ready to marry Bryan back in November when the two had their engagement party. She said she's ready to elope "tomorrow," according to US Weekly, but it looks like she (and possibly viewers) will be waiting a tad longer.
The 32-year-old claims she isn't one to make a fuss about details — she's all about living in the moment. "I don't want it to be too uptight," she revealed to People. "I want it to be laid-back. I want it to be casual. I want people to feel like they can take off their shoes and dance the night away."
Though wedding plans are certainly exciting, the two are also thinking ahead about their future. They do plan to "take things slow in the baby department," according to ABC's "Countdown to Arie," which premiered on Dec. 11. That's when they also revealed how happy they are being parents... dog parents to their pup Cooper (and obviously that's a blast).
Though things seem peachy keen, one person is less than thrilled with these Bachelorette updates. Rachel's ex Eric Bigger revealed his thoughts about the relationship, and it's safe to say he might not be over his breakup with her. According to an interview with former Bachelor Ben Higgins and former Bachelor contestant Ashley Iaconetti on their Almost Famous podcast, he said,
Honestly, from watching the show last night for the first time, I don't think she picked the right man in that moment ... I felt bad for [Bryan]. It seemed like he was a rebound. I could be wrong, but that's what it looked like in my eyes and maybe the feelings they had for each other is different from what I see. But man, it was tough.
Guess there has to be some sort of a downside when you're looking for love on a TV show. One thing's for sure: Expect the unexpected.
"You never know what can happen in a year," Rachel said on "Countdown to Arie." This time next year I might have another dog or a baby. It's crazy to think all this happened."
For those who are chomping at the bit for updates, stay calm. Until we have all the 4-1-1, enjoy the premiere of Arie Luyendyk, Jr.'s season of The Bachelor on Jan. 1 at 8 p.m. central on ABC.
Check out the entire Gen Why series and other videos on Facebook and the Bustle app across Apple TV, Roku, and Amazon Fire TV.