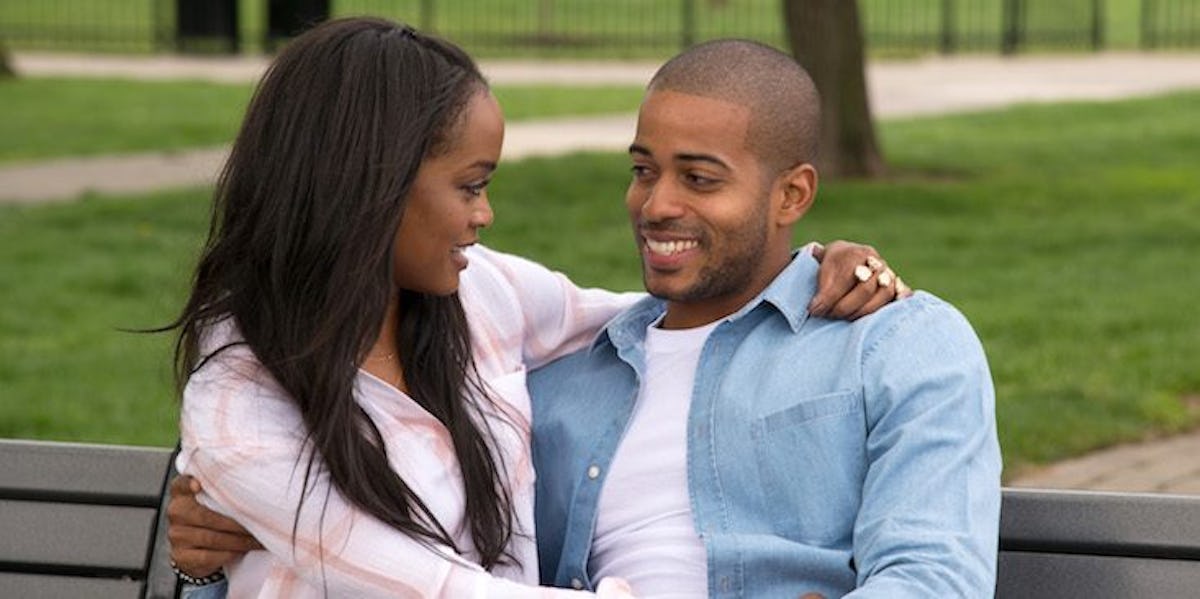 'Bachelorette' Rachel's Ex Eric Says She Shouldn't Have Chosen Bryan: "He Was A Rebound"
ABC/Randy Sager
Eric Bigger was one of the final three men on this season of The Bachelorette, and even he thinks Rachel Lindsay should have chosen Peter Kraus. In an interview with former Bachelor Ben Higgins and former Bachelor contestant Ashley Iaconetti on their Almost Famous podcast, Eric Bigger shades Bachelorette Rachel saying that her fiancé, Bryan Abasolo, is a "consolation prize." Yikes.
Bigger revealed it looked like Bryan was going to win while they were filming the season, but when he watched the finale for himself — and when he saw that intense Rachel and Peter breakup scene — he thought Rachel's heart was with Peter. He said,
Honestly, from watching the show last night for the first time, I don't think she picked the right man in that moment ... I felt bad for [Bryan]. It seemed like he was a rebound. I could be wrong, but that's what it looked like in my eyes and maybe the feelings they had for each other is different from what I see. But man, it was tough.
Bigger isn't the only one who feels Rachel should've picked Peter. Just about the entire internet is of the opinion that based off that painfully real breakup scene with Peter (he said he couldn't propose to her because he wanted to build a real relationship with her outside of the show first, which is... an objectively fantastic idea), her heart was with him, but she wanted a ring, and that's what Bryan was promising.
He continued,
She made a decision because she had to as opposed to what she felt ... From the heart, I really think she was more with Peter but in the mind Bryan made sense.
Bigger also thinks it's possible Rachel chose Bryan because he gave her the ending she wanted, aka a simple, clean finale without drama or challenge. But challenge, according to Bigger, is healthy — and even necessary — for relationships. He said,
Sometimes something too good might not last because there's no resistance. We need challenges in life to change. With what happened at the end with [Bryan], she didn't have a challenge with him. Peter was a challenge. You want what you can't have.
After saying Bryan seems to be a consolation prize, Bigger added,
I just pray it's not that. But from what I saw, I was like 'Woah.'
To be fair, just before Bryan proposed to Rachel, she said, "My heart has never been more confused than it has been this week. I've always been drawn to the excitement of gambling my feelings on the complicated relationships." So maybe her past relationships taught her that what Peter was offering was only going to hurt her in the end, but Bryan was offering commitment. When you think of it that way, it's kind of hard to blame her for sending Peter home.
Bigger thinks Rachel and Bryan could still have a chance at a happy marriage. And he has some great advice for how she and Bryan can make their relationship work. He said,
I feel like it will only work if they're willing to sacrifice, commit and love each other unconditionally. And if not, I don't think it's going to work.
ABC, please, for the love of God, make Eric Bigger the next Bachelor. And please let him keep the beard. I love it so.