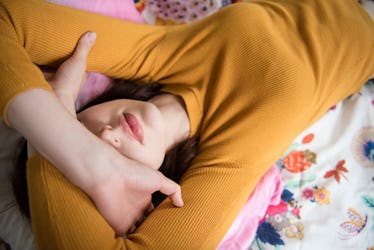 The Best Spots To Rub Your Essential Oils When You're Struggling With A Headache
I suffer from migraines, and I've dealt with them ever since I started going through puberty. Although it might not be the healthiest thing in the world, my usual go-to cure for an impending headache is three Advil pills and a Coca-Cola (it works, and I have no idea why). That being said, I'm always on the hunt for healthier approaches to battling these bad boys and potentially preventing them. Rumor has it putting essential oils on your temples and other pressure points might be one such remedy.
Essential oils are a holistic, natural approach to a variety of ailments that use the extracted essence of plants to trigger the olfactory system and improve circulation in the body. They're often used as an addition to skincare products, but you can also enjoy the benefits by using a diffuser, or rolling them on with a "carrier" oil, like almond or coconut oil, to particular pulse points on your body. It's recommended that you don't put pure essential oils directly on your skin, so keep that in mind when you choose one for your head-pain-relieving experiments.
The most commonly used essential oils for headaches are eucalyptus, lavender, peppermint, chamomile, and rosemary. These oils are thought to relieve tension, as well as relax and uplift you while you're trying to heal that pounding head.
And, just as a heads up, if you're beginning to get periodic headaches for the first time, another good thing to try before experimenting with essential oils is to identify your potential "triggers," or things that might be causing the pain to happen in the first place. Could it be stress, something you're eating, a few two many brewskis, or lack of sleep? Are you drinking enough water? It's always good to determine what's actually going on in your body to help you find the best treatment. And of course, if none of your strategies seem to be working, it never hurts to consult with a doctor about what's going on.
Otherwise, have fun experimenting with these essential oils, and try rubbing them on these six different spots on the body for a bit of relief from your headaches.