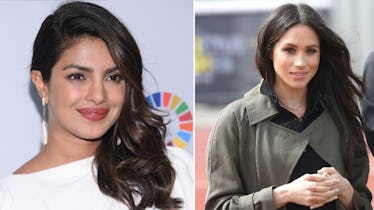 Priyanka Chopra Had The Sweetest Reaction To Meghan Markle's Pregnancy
DIMITRIOS KAMBOURIS/GETTY IMAGES ENTERTAINMENT/GETTY IMAGES | CHRIS JACKSON/GETTY IMAGES ENTERTAINMENT/GETTY IMAGES
In case you've been hiding under a rock and away from the internet for the past few days (in which case, kudos), Meghan Markle and Prince Harry are having a baby! The royal couple announced the highly anticipated news earlier this week, and their peers have been sharing the most gushing and congratulatory messages ever since. Priyanka Chopra's reaction to Meghan Markle's pregnancy, specifically, is so proud and so, so supportive. Get ready to swoon.
Chopra spoke to People about her BFF's pregnancy on Friday, Oct. 19 at JBL Fest in Las Vegas, telling the outlet that she couldn't be more excited for Markle to be expecting her new bundle of joy. "I would, as a friend, just say that I'm really excited for her," raved Chopra, who also attended Markle and Prince Harry's royal wedding back in May.
The Quantico actress then offered up her well wishes to Markle with plenty of exclamation, which, TBH, could not be more perfect for such a magical moment. "I think this is a new phase in every woman's life," said Chopra, "and I hope hers is as amazing as she wants it to be." If that doesn't make you say "aww" aloud, I don't know what will.
Chopra's comments came just days after the Kensington Palace announced that the couple would soon be becoming a family of three. The news came on Oct. 15 in the form of a Twitter post, accompanied by a photo of Markle and Prince Harry embracing each other and smiling gleefully into the camera. The caption read: "Their Royal Highnesses The Duke and Duchess of Sussex are very pleased to announce that The Duchess of Sussex is expecting a baby in the Spring of 2019."
Soon after, the Kensington Palace tweeted, "Their Royal Highnesses have appreciated all of the support they have received from people around the world since their wedding in May and are delighted to be able to share this happy news with the public."
The pair tied the knot on May 19 in a romantic, fairytale ceremony at St. George's Chapel at Windsor Castle, in which a global audience of millions tuned in to ogle over (self-included). What made the wedding even more exciting for some of us royal watchers is the fact that royal expert Katie Nicholl told Entertainment Tonight that Markle and Prince Harry would try for kids right after the wedding. (!!!) Nicholl explained:
My sources are saying that Prince Harry, particularly, is very keen to start a family, pretty soon after the royal wedding. He's made no secret about wanting children. I think that moment [for Harry] really kicked in when his brother, Prince William, of course, settled down with Kate Middleton.
If you do the math, clearly, Nicholl was right on the nail.
Markle and Prince Harry's new addition won't arrive until some time in the spring of 2019, but don't expect to see any shortage of anticipatory and exciting messages until then — including from some of your favorite celebrities.