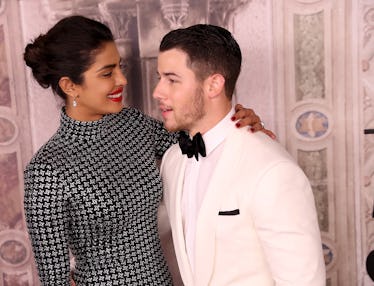 Priyanka Chopra & Nick Jonas Finally Revealed Their Hilarious Celebrity Couple Name
Rob Kim/Getty Images Entertainment/Getty Images
In Hollywood, one sign that things are getting really serious and the relationship is closing in on near-iconic status is when fans start referring to a couple with a joint nickname, à la Brangelina, Jelena, Kimye, and Bennifer. Now that Priyanka Chopra and Nick Jonas have finally made their quicker-than-quick engagement official, they've been doing some thinking of their own, and Priyanka Chopra and Nick Jonas' celebrity couple name will make you chuckle. Forget Ariana Grande and Pete Davidson's Grandson, because this one definitely takes the cake.
While making a joint appearance on The Tonight Show Starring Jimmy Fallon on Friday, Sept. 7, the notoriously private couple loosened up and shared some details about their quick engagement, including the most important item of business: their celebrity nickname, per People. The lovebirds' names don't exactly mesh together, so fans of the cute AF couple have all been struggling to come up with a moniker that's catchy and memorable.
"Do you guys have a celebrity nickname?" host Jimmy Fallon posed to the "Right Now" singer, and it was immediately clear from the Jo Bro's face that there was a story to tell.
"Oh boy," he responded, after which the late night emcee directed the question to the Quantico actress, who was waiting backstage.
Chuckling, Chopra shouted "Prick!" from the sidelines, and I immediately LOL'd. It looks like the crooner might not be the biggest fan of the moniker as he admitted, "She likes Prick. I don't like that one that much."
OK, so their celebrity couple nickname might still need some work, but it sounds like they don't need any help when it comes to their wedding preparations.
During the appearance, the 25-year-old also opened up about their stunning Indian engagement ceremony that happened in August, you know, after which they finally made their engagement Instagram official and pulled on everyone's heart strings with matching messages calling each other "My heart, my love." But I digress.
"After we got engaged, we went to India, to her home country, to Mumbai, and my parents came along," Jonas explained to Fallon on Friday's show. "We did this beautiful Roka ceremony."
Photos from the event showed Jonas and Chopra's parents bonding, and it was so heartwarming. "It's a confirmation from both sides of the family that they approve of the engagement," the singer continued. "There's some beautiful prayers and a connection just for the family to have a chance to meet and hang out. It's really incredible." I'm not crying, you're crying.
"We both left that ceremony so full of joy," he said. "For she and I, I think it was just nice to have that time with the family first. Have that private moment then be able to share with the world afterwards." Luckily for fans of the couple, that means they're finally getting details about this pair's whirlwind romance and behind-the-scenes shots of their hangouts with Joe Jonas and Sophie Turner, Nick's brother and future sister-in-law.
As for anyone who's still questioning how fast they started planning for forever, Jonas cleared things up by explaining that he knew that Chopra was the one right away.
"It was immediate," he shared with Fallon. "We knew it was right and just kind of jumped right in." Aw.
I seriously can't with these two. Their relationship is just further proof that when you know, you know, and I'm looking forward to seeing the unlikely pair celebrate their love. In the meantime, it looks like Nick needs some help crowdsourcing new nickname ideas.