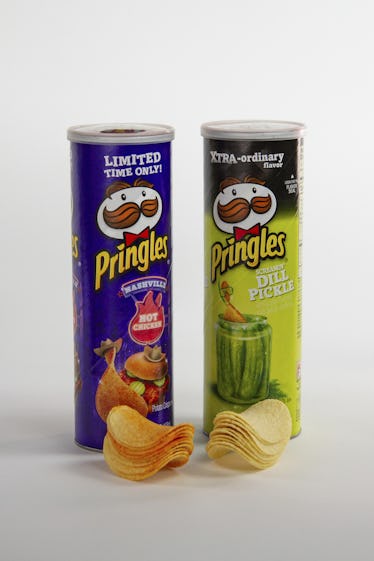 Pringles Released A Brand New Flavor That'll Taste Amazing With Their Pickle Chips
Your summer is about to get "Nashville hot," thanks to your favorite stackable snack. Pringles — the brains behind unusual potato chip combinations inspired by pizza, hot dogs, and Ramen — is now back with a new flavor inspired by a culinary staple from Nashville, Tennessee. That's right: Pringles' Nashville Hot Chicken flavor is here, and your summer is about to get so lit.
Even if your summer travel plans don't include a visit to Music City, USA, you're in luck, because the potato chip gods are bringing the trademark "Nashville hot" flavor to the rest of the country for a limited time. According to a press release, Pringles Nashville Hot Chicken flavor is coming to grocery shelves near you, and it's a total steal at only $1.50 a can. Starting from Tuesday, June 26, Nashville hot devotees can spice up their lives by heading to a Dollar General Store (which happens to be headquartered in Tennessee) and sampling some Nashville Hot Chicken in crisp form. Get ready to stock up now, because these are the summer bites you don't want to sleep on.
"Nashville hot chicken" has a pretty interesting back story going back to the '30s. The first Nashville hot chicken is said to have originated from Prince's Hot Chicken (which is still a must-visit eatery for its mouth-numbing spicy sauce), per Eater. Since then, the spicy delicacy has become synonymous with the city, and other Nashville eateries have come along and put their own spin on the jalapeño, cayenne pepper, and paprika sauce. Even KFC serves Nashville fried chicken around the country now. The point is, it's impossible to have too much spicy, breaded chicken.
That being said, the burn can get pretty overwhelming (I speak from experience), which is why Nashville hot chicken is traditionally served on a slice of Texas bread with a stack of pickles on top. When your mouth is on fire and chugging buckets of iced tea just isn't cutting it, there's honestly no better way to cool things down than by popping a few of the pickles. Luckily, Pringles has thought of that, too. There are few things more addictive and strangely satisfying than popping open a canister of Pringles and inhaling every single one of the potato and wheat-based crisps, and Pringles Screamin' Dill Pickle flavor is here to make sure your tastebuds get some relief when you're halfway through your Nashville Hot flavor. These Pringles promise to pack plenty of dill pickle flavor into your can of chips, and I'm so here for it.
While the jury is still out on how close the Pringles flavor comes to Nashville Hot Chicken, the company's track record with uniquely flavored snacks is giving me hope. Plus, Pringles promises that you'll definitely be getting Nashville Hot Chicken vibes when you bite into one of the chips.
"If you love spicy snacks, this new flavor of Pringles is made just for you, and you don't have to go all the way to Nashville to try it," Kurt Simon, senior director of brand marketing for Kellogg's U.S. Snacks division, said in the press release. "Pringles Nashville Hot Chicken Flavor tastes insanely close to the real thing." So there you have it.
This summer, you'll definitely be living your best Pringles life and wowing at every BBQ party with these $1.50 cans of spicy, Nashville-inspired deliciousness. Something tells me that you'll want to stock up while you can, because is there really anything better than crispy fried chicken? Now, if only Pringles could imitate that flaky, fried chicken breading, I'd totally be on board.