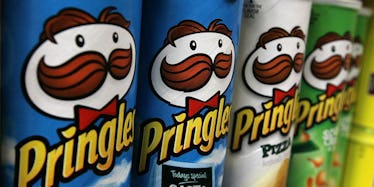 Ramen-Flavored Pringles Supposedly Exist And They're Giving Us College Nostalgia
Justin Sullivan/ Getty Images
It seems like unorthodox potato chip flavors have become increasingly popular over the past few years, including Pringle's savory new release.
Pringles is one brands that has made unconventional potato chip flavors its bread and butter. Within the past few years, it's created flavors including hot dog, pizza, pecan pie, and even salted caramel.
If you got excited by the previous flavors, then this news is going to make your day.
According to Cosmopolitan, Pringles is teaming up with Dollar General and Japanese food company Nissin to create Top Ramen Chicken-flavored Pringles.
Don't lie: Your college self would be all over these chips.
Major throwback to those penny-pinching school days, eh?
The Top Ramen Chicken-flavored snack will allegedly be sold for a limited time at Dollar General locations, Cosmopolitan reports.
But wait, there's more! Each tin will supposedly cost $1.50, so stock up before you're forced to order them for three times the price somewhere else.
These chips might be a good alternative if you don't like the looks of ramen while digesting the actual noodles.
Check it out in the video below. Apparently, it takes two hours to digest our favorite college snack.
(Eww, why didn't know this when I was scarfing these down by the boatload in my dorm room?)
And if your local Dollar General runs out of the ramen-flavored Pringles — a very real possibility — then maybe you might be into one of the latest unicorn trends: Unicorn ramen!
TBH, it sounds kind of gross, but unicorn ramen is made with spirulina algae, which gives the broth a blue hue.
But of course, there's a catch. You have to travel all the way to Tokyo and visit a trendy little restaurant named Kipposhi in order to try it.
The "clear blue chicken soup" will set you back $7.86, which I think is a fair price for a perfectly Instagrammable (and digestible) bowl of ramen.
So there you have it, folks: the coolest ramen options under the sun.