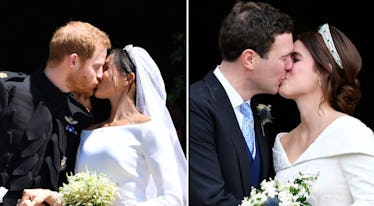 Princess Eugenie & Jack Brooksbank's First Kiss Compared To Prince Harry & Meghan Markle's Isn't Too Different
Ben STANSALL/ Toby Melville - WPA Pool/Getty Images
The second royal wedding of 2018 is officially in the books, and while it was lovely from start to finish, there are definitely some moments that stand out. Princess Eugenie stunned with her church entrance, and Jack Brooksbank looked adorable watching her walk down the aisle, but the best part was easily their first kiss as husband and wife. But, what was Princess Eugenie and Jack Brooksbank's first kiss like compared to Prince Harry and Meghan Markle's first kiss after their wedding? Well, looking at each couples' body language, it's clear both moments were filled with a lot of love.
No matter which way you slice it, both of this year's royal weddings were fabulous. Back in May, an American actress who stands strong on her principles of feminism and social justice married a British prince. And now, a lovely princess is getting her own fairytale ending, marrying her boyfriend of seven years. It's a happy ending for everyone, but if you're wondering what each couple's body language during their first kiss says about them, then you aren't alone. It's interesting because modern royal couples get to be a little more lax, so their body language can say a lot.
Looking back at Prince Harry and Meghan Markle's first intimate moments as husband and wife, it's very obvious that they were excited to be married. Of their body language during their first kiss post-wedding, body language expert Tonya Reiman told Elite Daily that it was very sweet. "Their first kiss is a gentle, almost two-second, lip kiss with eyes closed – they open their eyes and look at each other before turning back forward – a sign of love," Reiman said.
It's no secret that Prince Harry and Markle are in love, and their first kiss outside of the church showed just how happy and connected they are and will be. Now it's time to look at how their kiss differs from Princess Eugenie and Jack's.
Princess Eugenie's wedding differed from Harry and Meghan's in a few ways, but the traditional first kiss outside the chapel stayed the same. Aside from looking utterly gorgeous, this moment between Eugenie and Jack was also super meaningful.
According to body language expert Blanca Cobb, the newlyweds' first kiss was certifiably adorable. "They're both smiling and kissing at the same time, that's very sweet," Cobb tells Elite Daily. Not only was their kiss sweet, but it was also pretty sexy. Ya know, for a kiss in front of a church and thousands of people. "See how he has his hand wrapped around her waist?" Cobb says. "That's an intimate place to put your hand. It's such a sweet kiss. She's leaning up to him a little bit, he's leaning down, it's a nice kiss for them. You can tell his nose is smushed a little bit up against her face. They're really enjoying the moment."
Hopefully, Princess Eugenie and Jack were able to enjoy their big day and are excited to spend the rest of their lives together. They deserve to live a long, healthy, happy life together and continue rocking gorgeous emerald accessories. Cheers to the happy couple!
Check out the "Best of Elite Daily" stream in the Bustle App for more stories just like this!