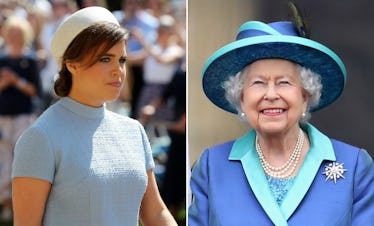 Here's Exactly How Princess Eugenie Is Related To The Queen, In Case You Were Wondering
WPA Pool/Getty Images Entertainment/Getty Images & Chris Jackson/Getty Images Entertainment/Getty Images
If you thought we were all done with royal wedding mania, think again! Princess Eugenie is getting married to her fiancé Jack Brooksbank on Friday, Oct. 12, meaning British wedding bells are ringing once again. Royal fans are prepping to tune in for the big event so they can swoon over all of the wedding goodies like Eugenie's dress, the guest list, and the Queen's hat (obviously). If you aren't familiar with the royal British lineage, you might be wondering — How is Princess Eugenie related to the Queen? The answer is actually pretty simple. Princess Eugenie is Queen Elizabeth II's granddaughter. Straight up.
Now, you're probably like: "Wait a second. Why does the media seem to focus so much more on Kate Middleton and Meghan Markle if they're essentially in the same position as Princess Eugenie? In fact, Eugenie is actual royal blood!" (To be clear, she is Queen Elizabeth's sixth grandchild.)
I know. It's a lot. So listen closely.
Eugenie's father is Prince Andrew, Duke of York. He is Queen Elizabeth and Prince Philip's third child out of four. Before Prince Andrew is Charles, Prince of Wales (who is also the direct heir to the throne and Prince William and Prince Harry's father). Next is Prince Andrew's sister Anne, Princess Royal, then Prince Andrew, and then Prince Edward, Earl of Essex, brings up the rear.
Here's the key detail I always like to refer to when I get lost in how this whole thing works: The firstborn of an heir is the closest to the throne. Then, it trickles down through siblings until someone has a kid. This means Prince Charles is next in line after Queen Elizabeth. After him comes his first son, Prince William, Duke of Cambridge, and after him comes his first son, George, Prince of Cambridge. For now, Princess Charlotte is next up after her older brother until Prince George has kids of his own.
Ya dig?
Here's a handy-dandy family tree graphic to help tie everything together.
You can see that Princess Eugenie and her sister Princess Beatrice are hanging out underneath their parents towards the right. To the far left are the familiar faces you might know and love, like Prince Harry, Meghan Markle, Prince William, Kate Middleton, and all of their babies.
As it stands, Princess Eugenie is currently ninth in line to the throne, and will be bumped back even further if Prince Harry and Meghan Markle have kids. Her spot in the royal lineup pretty much guarantees she will never be queen.
Despite her distance from the crown, Eugenie's wedding is sure to be straight out of a fairytale. She's marrying Jack Brooksbank, a wine merchant and UK ambassador of George Clooney's Casamigos Tequila, which means they'll at least have great cocktails. They're scheduled to wed at St George's Chapel, which is the same location where Prince Harry and Meghan Markle said, "I do." Plenty of theories are floating around about Eugenie's wedding dress, but you'll have to tune in to see what she actually chose.
Americans can catch the wedding by tuning into TLC or streaming the action on TLC's website, Philo, or PlayStation Vue. Heads up, if folks in the U.S. want to watch it live they will need to get up bright and early as the coverage kicks off at 4:25 a.m. ET/PT on TLC's website.
Happy wedding day, Genie! Can I call you Genie? Knock 'em dead.