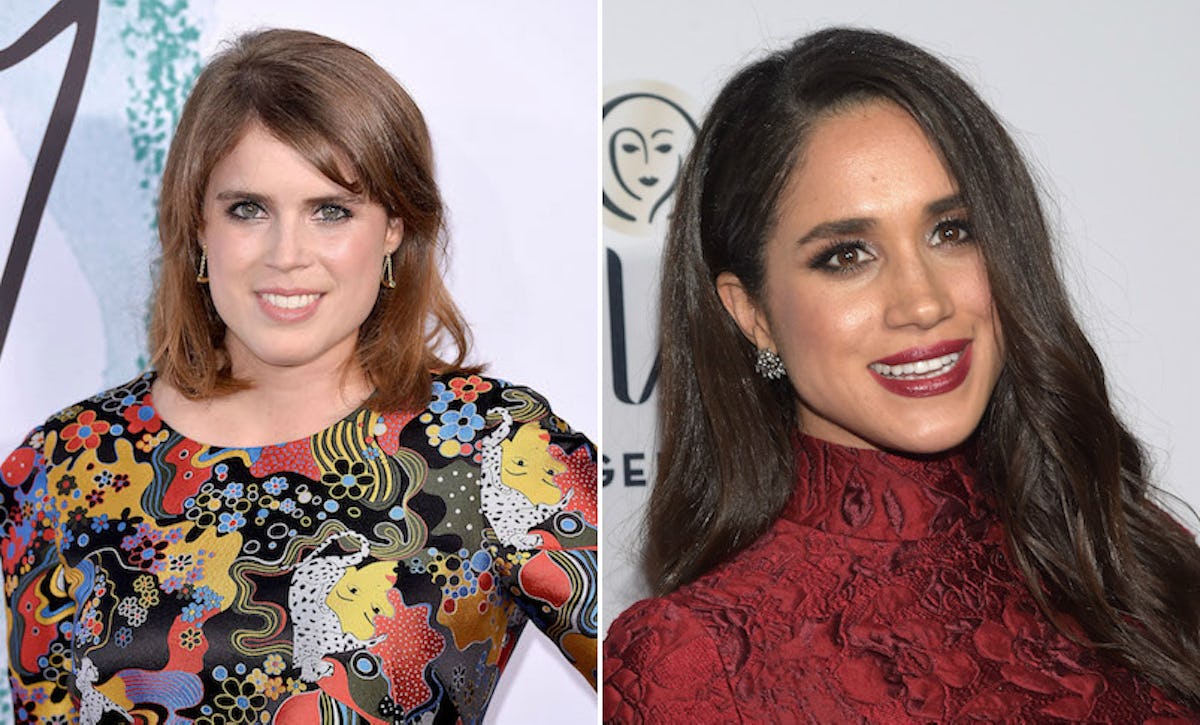 Here's What We Know About Princess Eugenie & Meghan Markle's Relationship
Jeff Spicer/Jason Kempin/Getty Images Entertainment/Getty Images
I love anything to do with the royal family, and I really love anything to do with any of the royal women. I like to think that they are all in a group chat, texting each other what the others are wearing to the next big event, and that there's nothing but good vibes between all the ladies. While we can't know for sure whether all of the princesses and duchesses are besties, we do have, at the very least, an idea of their relationship with each other. But there are two women in particular that I've been wondering about, and it begs the question: Are Princess Eugenie and Meghan Markle friends? I don't have either of them on my speed dial, but there are a few things that point to the answer of just how close these two ladies are.
Now, look. Have we heard any official statements announcing that Meghan Markle and Princess Eugenie are besties? Obviously not — that would be weird (but also, I kind of love that idea for my own personal use). But considering both women received invitations to each other's respective weddings, I'd say that they have to be pretty damn friendly with each other.
And let's not forget that both women will have gotten married at the same venue — St. George's Chapel at Windsor Castle — which doesn't necessarily mean that they're good friends, but it does show that they must have a similar mindset. According to The Mail Online, Princess Eugenie and her fiancé, Jack Brooksbank, reportedly paid Meghan Markle and Prince Harry a visit to "get advice on planning their wedding," which should certainly count for something. A source told the publication,
Princess Eugenie and her fiancé Jack Brooksbank made a trip to see the couple around a month ago for Meghan to help the bride-to-be with her wedding plans.
Can you even imagine what that get-together would look like?
I honestly don't think I'd be royal enough to enter that room, but I sure as hell would try to pull it off.
Not only that, but Prince Harry and Jack Brooksbank are friends, too, meaning it's likely that the whole gang probably gets along nicely. According to Marie Claire, Brooksbank was a waiter when he met the Duke of Sussex, working at "Chelsea's Admiral Codrington pub and the Markham Inn, where he befriended Eugenie's cousin Prince Harry."
Plus, it seems like both Eugenie and Meghan have a lot in common with each other. For starters, they both love to travel (Meghan and Prince Harry reportedly fell in love in Botswana, and Eugenie and Jack got engaged while visiting Nicaragua), and I feel like these two would just hit it off pretty naturally. If I was the Maker of Friends, I would probably put these two together, and maybe add in a dash of Kate Middleton or Princess Beatrice for good measure.
So, while we can't definitively say that the two are BFF's, I guess we'll just have to wait and see just how big of a hug the pair give each other at Princess Eugenie's wedding on Friday, Oct. 12 (unless they can't hug? Is there some royal rule forbidding that kind of thing? I need to research that.).
Who knows, maybe we'll even spot the two gettin' down on the dance floor at the reception together. It might sound far-fetched, but c'mon people! This is a royal wedding! Anything could happen.