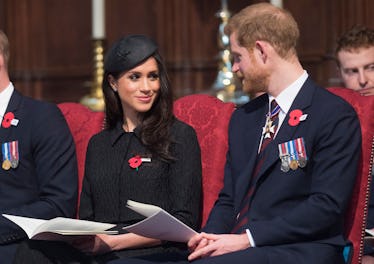 Another Royal Couple Just Moved In Next To Harry & Meghan At Kensington Palace
WPA Pool/Getty Images Entertainment/Getty Images
Move over, Meghan Markle and Prince Harry, there's a new royal couple in town. While we all know that Kensington Palace is the ultimate #HouseGoals, it seems that it's not just meant to be the living space of the soon-to-be Mr. and Mrs., because there's plenty of Kensington Palace to go around. Prince Harry's cousin, Princess Eugenie and Jack Brooksbank moved into Kensington Palace, so that means that Harry and Meghan will have the most royal neighbors around.
According to People, Princess Eugenie and her fiancé, Jack Brooksbank, "moved into Ivy Cottage at Kensington Palace" which is "right next door to Nottingham Cottage — Harry and Meghan's two-bedroom property in the palace compound." Honestly, that sounds beyond delightful and if there's anyone renting out their pad in or around Kensington Palace, please hook a sister up.
Princess Eugenie and Jack Brooksbanks were previously living in an apartment at St. James's Palace, but moved into Ivy Cottage this past April, People confirmed. Ivy Cottage is also the couple's first home together (aw!), and from the sound of it, it's not too shabby:
The three-bedroom Ivy Cottage is the longtime couple's first home together. Eugenie and Jack, who announced their engagement in January after seven years of dating, are set to wed at St. George's Chapel in Windsor Castle (just like Harry and Meghan!) in October. The two engaged couples are close and have spent several evenings out together in London and in Toronto while Meghan was filming Suits last year.
So not only are they cousins and neighbors, but they're friends, too? Some royal families get all the luck. And fame. And wealth.
And about this (other) royal wedding: The Duke and Duchess of York announced that their daughter, Princess Eugenie, got engaged to her longtime boyfriend, Jack Brooksbank, on Monday, Jan. 22 in a statement that read:
The Duke and Duchess of York are delighted to announce the engagement of Princess Eugenie to Mr. Jack Brooksbank. Her Royal Highness and Mr. Brooksbank became engaged in Nicaragua earlier this month. The wedding will take place in the Autumn of 2018 at St. George's Chapel in Windsor, with further details to be announced in due course.
Prince Andrew (AKA the Duke of York) said in a following statement, "We are overjoyed at the news today that Eugenie and Jack have got engaged. Jack is an absolutely outstanding young man and Eugenie and he have got to know each other over a number of years, and I'm really thrilled for them."
And if you think Meghan Markle and Kate Middleton are the only royals who got jaw-dropping engagement rings, think again, because Princess Eugenie's ring is a TOTAL stunner:
Oh, hello, beautiful!
According to Harper's Bazaar, Princess Eugenie's engagement ring features a padparadscha sapphire, aka a "lotus blossom" sapphire, and that striking colored stone is one of the rarest colors you can find in a sapphire, according to Evening Standard. And, the diamonds circling around the sapphire make a gorgeous halo shape, which is a nod to many other royal engagement rings (cough cough the Duchess of York and Kate Middleton).
Another thing Princess Eugenie has in common with her royal cousins? A fast-approaching royal wedding!
Princess Eugenie and Jack Brooksbank have set a wedding date for Oct. 12, 2018, with a ceremony that will take place at St. George's Chapel at Windsor Castle. Yep, the same place that Prince Harry and Meghan Markle will get married in just months before on May 19, 2018.
This is almost too much wedding royalty for me to handle.
So if you need me, I'll be hanging out in my fascinator, sipping on some tea for the unforeseeable future. Cheerio, darlings.