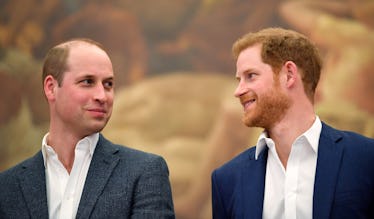 Prince William Had A Major Role At Meghan Markle & Prince Harry's Wedding
WPA Pool/Getty Images Entertainment/Getty Images
Weddings are, of course, about a pair of people who are in love and want to spend the rest of their lives together. But as the old advice goes, you don't just marry the person, you marry the whole family — and that's especially true when the groom happens to be a prince. So while it's Prince Harry and Meghan Markle who are actually getting married on Saturday, May 19, Prince William's role in the royal wedding is pretty important as well.
Back in late April, Kensington Palace announced that Prince William will be Prince Harry's best man. This is a very fitting role as, back in 2011, Prince Harry served as Prince William's best man when he married Kate Middleton. Things really do come full circle around here. Having his brother around as a best man probably made life a lot easier for Harry. First of all, he didn't have to choose one of his friends and make everyone else jealous. Second of all, his brother's already married, so he probably has lots of great advice to give both about married life and about the wedding itself. Third of all, well, William is also a prince, so he already knows all the proper protocol and so on to follow for the wedding. Just like your friends on Instagram, Kensington Palace made the announcement along with some adorable pictures of the pair.
As the best man, Prince William quite literally stands with Prince Harry as he gets married, waiting with him at the altar as the ceremony happens. But that showing of support isn't the only thing that the best man has to do, of course. The best man also traditionally throws the groom's bachelor party (which the Brits call a stag weekend, innit?) — although one might argue that Harry has a more, uh, notable history of throwing (and attending) parties. Speaking of bringing up someone's unsavory past, the best man also has the opportunity to give a toast during the reception, which is sure to be fun, given the apparent closeness between Prince Harry and Prince William.
This is possibly the first time in their lives in which Prince William, the older brother, is following in his younger brother's steps, given that Prince Harry has already served as the best man at a major royal wedding. And given Harry's performance at William's wedding, the big bro has a lot to live up to.
During the ceremony, as Kate was walking down the aisle, William was following tradition by looking away from her by facing the altar. But his brother turned around to get a glimpse of her and giddily — and dutifully — told William that she was, in fact, walking down the aisle.
And during the reception, Harry reportedly gave an excellent toast, where he called Middleton "like a sister" and said their romance "inspires" him. Prince William and Kate were, reportedly, very touched by the speech.
But Harry's duties as best man didn't stop at making some sweet comments. In fact, his duties included a bit of a prank. After the wedding ceremony, Kate and William drove off in a 1969 Aston Martin... that was covered in silly streamers and balloons. That, apparently, was the work of Prince Harry.
Prince William, potentially, has not forgotten this.
"It feels great, a real delight," William said in April after the announcement was made about his role in the wedding. This all sounds well and good and sweet! Except... William added with a grin, "Revenge is sweet."
So you can be sure to expect lots of brotherly ribbing and pranks as the wedding goes on — although hopefully the pranks don't get too ridiculous.