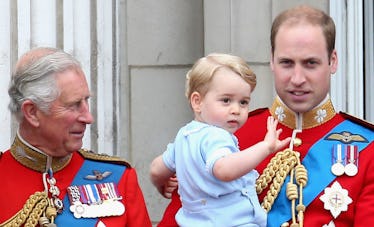 Prince William Just Called Out Prince Charles For Not Spending Time With His Grandchildren
Chris Jackson/Getty Images Entertainment/Getty Images
Look, I admittedly have no idea what it's like to be a royal person. Surprising, but true. I imagine it's mainly fancy dinners, delicious, pastries, nice hats, and lots of waving. But, I suppose it's possible I'm wrong. I guess it could be a lot of work, too. (Is my sarcasm coming through yet?) A new BBC documentary called Prince, Son and Heir: Charles at 70 takes a closer look at the Prince of Wales' life in honor of his 70th birthday. TBH, it looks intense. In fact, Prince William's comments about Prince Charles' relationship with his grandchildren are extremely telling. Mainly, the Duke of Cambridge wishes his dad could be around more to see the little ones, and other royal family members agree. Ouch.
BBC calls the documentary a "revealing and intimate portrait" of Prince Charles' life. The trailer features interviews with those closest to him including Prince William, Prince Harry, and his wife, Camilla. In the teaser, Prince William describes his father as having a huge heart. However, later in the doc, he opens up about the pressures of Prince Charles' job and how it can sometimes take him away from family time.
The teaser is super short but has me totally hooked, anyway.
Prince William and his wife, Kate Middleton, of course have three gorgeous babes: Prince George, 5, Princess Charlotte, 3, and Prince Louis, 6 months. Plus, the Duke and Duchess of Sussex, Prince Harry and Meghan Markle also have a little one on the way. According to Prince William, his dad is missing precious time with his grandkids. "I would like him to have more time with the children," Prince William said. "Having more time with him at home would be lovely, and being able to, you know, play around with the grandchildren. When he's there, he's brilliant, but we need him there as much as possible."
Oof.
Prince Charles' wife, Camilla, also agrees he's great with kids when he's around them. "He reads Harry Potter and he can do all the different voices and I think children really appreciate that," Camilla said. "He will get down on his knees and crawl about with them for hours, you know, making funny noises and laughing, and my grandchildren adore him, absolutely adore him."
Later in the doc, Prince Harry backed up Prince William's sentiments about their father being overworked. "He does need to slow down," Prince Harry said. "This is a man who has dinner ridiculously late at night, and then goes to his desk later that night and will fall asleep on his notes to the point where he'll wake up with a piece of paper stuck to his face."
Prince Harry also remembers trying to say goodnight to his father among the piles and piles of work in his office. He explained, "The man never stops. When we were kids, there were bags and bags and bags of work that the office just sent to him. We could barely even get to his desk to say goodnight to him."
Oh, so you mean being a royal isn't just musical dance numbers hanging out of your castle tower?
Weird.