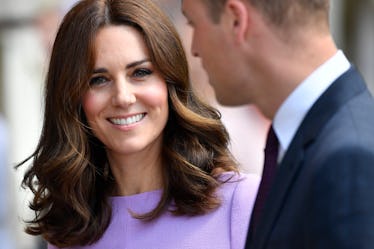 Fans Think Kate Middleton Is Having A Boy Because Of This Christmas Card Photo
Alexander Koerner/Getty Images Entertainment/Getty Images
In the middle of all the excitement of Prince Harry and Meghan Markle's engagement, it's easy to almost forget that the royal family isn't growing by one in 2018, but two! Kate Middleton and Prince William are expecting their third baby next year, and fans are dying to know the gender. Kensington Palace just released the photo from Prince William and Kate Middleton's 2017 Christmas card, and it's making fans think they're doing a slight gender reveal. You see, Prince William and Kate Middleton's Christmas card features William, Kate, George, and Charlotte all wearing the color blue. Is this just a nice color for the family to wear, or is it because baby number three is a boy?! What are you trying to tell us, Kate?! Kensington Palace tweeted out the photo on the morning of Dec. 18, and first of all, it f*cks me up with its adorableness. Second of all, Princess Charlotte's shoes are everything. The tweet said,
The Duke and Duchess of Cambridge are pleased to share a new photograph of their family. The image features on Their Royal Highnesses' Christmas card this year. The photograph was taken earlier this year by @ChrisJack_Getty at Kensington Palace.
Since the tweet straight-up says "The photograph was taken earlier this year," it's probably safe to assume this was not intended to be a gender reveal. If it was taken earlier this year, that means it's possible it was taken before Kate even knew she was pregnant. If she did know she was pregnant when it was taken, it's possible she wasn't far enough along to know the gender yet.
So, instead of wallowing in uncertainty, let's just stare at this picture for the rest of the day and let the sunshine in. Yes, Prince George and Princess Charlotte are the equivalent of sunshine. Just look at those baby faces!!!
What the?! Have you ever?! I'm done. This is too stinkin' cute for me to handle. Tag yourself. I'm Prince George's foot pop. The news of Kate Middleton's pregnancy was announced on Sept. 4 in a statement that read,
Their Royal Highnesses The Duke and Duchess of Cambridge are very pleased to announce that The Duchess of Cambridge is expecting their third child. The Queen and members of both families are delighted with the news. As with her previous two pregnancies, The Duchess is suffering from Hyperemesis Gravidarum. Her Royal Highness will no longer carry out her planned engagement at the Hornsey Road Children's Centre in London today. The Duchess is being cared for at Kensington Palace.
That "Hyperemesis gravidarum" the statement mentions is a severe form of morning sickness that Middleton suffered through both of her other pregnancies. As a result, it keeps her from being able to attend events from time to time. When Prince George had his first day of school, for example, she was too ill to take him there along with Prince William.
Kensington Palace also posted the photo on Instagram, and the comment section was almost immediately flooded with fans asking if the blue means the baby is a boy.
We're all detectives now.
Some fans did notice Kate's hair is longer in this photo than it appears to be now, which further confirms what Kensington Palace said about the photo being taken earlier this year. But still, that won't stop fans from thinking this is a quasi gender announcement! Prince George, Princess Charlotte, and the upcoming prince or princess might have cousins soon enough, seeing as Prince Harry and Meghan Markle set their wedding date and have said they definitely want to have kids down the line. Kensington Palace tweeted that Prince Harry and Meghan Markle will get married on May 19, 2018. The tweet read,
His Royal Highness Prince Henry of Wales and Ms. Meghan Markle will marry on 19th May 2018. Today's announcement follows earlier confirmation of the month of the wedding and its location at St George's Chapel, Windsor Castle.
Me on May 19 walking into St. George's Chapel pretending I'm invited like...