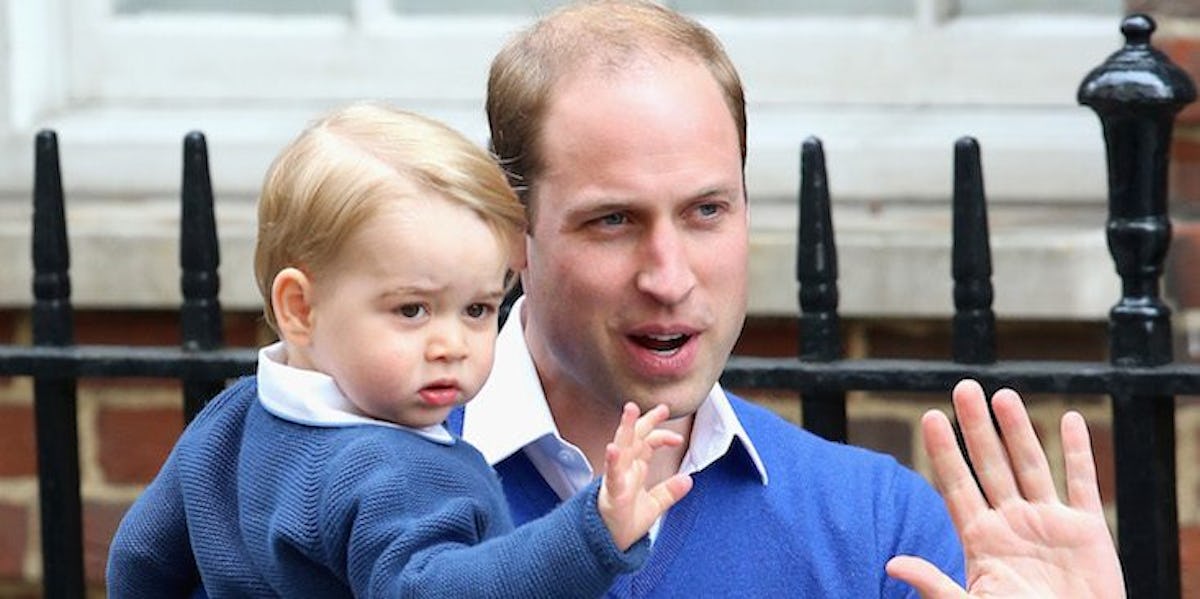 Prince George Looks So Nervous Walking Into His First Day Of School & It's So, So Cute
Chris Jackson/Getty Images
Prince George had his first day of kindergarten today, and I don't care how much people think it's stupid to love the Royal Family, this is the cutest child on the planet (next to my niece, coincidentally named Charlotte), and I will spend the rest of today obsessing over this photo of Prince George on his first day of school.
Prince William played the role of proud father while walking his son into school and introducing him to the principal. Kate Middleton, unfortunately, couldn't be there, as she's suffering from hyperemesis gravidarum — an extreme form of morning sickness (she's pregnant with her and Prince William's third child, in case you didn't know). A spokesperson for Kensington Palace said in a statement earlier today,
Unfortunately The Duchess of Cambridge remains unwell, and will not be able to accompany Prince George on his first day of school. The Duke of Cambridge will drop off Prince George this morning as planned.
George is attending the Thomas's Battersea school in London, and you can tell just how nervous he is about the big day in the videos and photos of him walking in with his dad. It's honestly the cutest thing I've seen all week.
Is your heart not exploding?! Mine is. And so is the internet's collective heart.
Just look at that little face!
Prince George's first day of school comes shortly after the announcement that he's soon going to be a big brother to another sibling, and Princess Charlotte's going to be a big sister! On Monday, Sept. 4, it was announced that Will and Kate are expecting their third child. They didn't reveal the gender, but the press release announcing the happy news said,
Their Royal Highnesses The Duke and Duchess of Cambridge are very pleased to announce that The Duchess of Cambridge is expecting their third child. The Queen and members of both families are delighted with the news. As with her previous two pregnancies, The Duchess is suffering from Hyperemesis Gravidarum. Her Royal Highness will no longer carry out her planned engagement at the Hornsey Road Children's Centre in London today. The Duchess is being cared for at Kensington Palace.
I can't handle all of the baby cuteness, help.