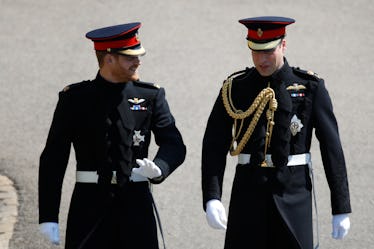 Prince Harry Looks More Dapper Than Ever In His Wedding Suit & I'm Swooning
WPA Pool/Getty Images Entertainment/Getty Images
There's been enough speculation as to what Meghan Markle would wear on her wedding day to make your head spin. Prince Harry's wedding suit, however, has gone largely undiscussed. While I agree that suits are generally way less exciting than dresses are, much less wedding dresses (hence why I don't work at GQ), after looking into what British royal grooms typically wear, I actually became intrigued by the subject.
When Prince William got married, he wore the uniform of Colonel, Irish Guards. Having recently been appointed to this position by The Queen, and seeing as he's a future monarch, the uniform was only appropriate. The initial chances of Prince Harry following suit and wearing military attire were far less. Alastair Bruce, Ceremonial Expert/Officer of Arms, explained to Cosmopolitan, "As Prince Harry is no longer a serving officer in the Armed Forces, it is unlikely he will wear a uniform. However he could, if he wishes, as he holds a special position as a Member of the Royal Family."
Prince Harry served as Captain of the British Army and Royal Marines, so if he did decide to wear military dress, it would likely be the corresponding uniform. As Bruce explains, "If he wears a uniform it would probably be that of Captain in the Blues and Royals, part of the Household Cavalry Regiment, which was his uniform while serving. With this, he often selects the Army Air Corps light blue beret because he was an Apache helicopter pilot, memorably during his service in Afghanistan."
Bruce's best guess, though? That Prince Harry would walk down the aisle in a rather tame look compared to the one his brother wore on his own big day. "If they choose to marry in St George's Chapel, as the Earl of Wessex did, I would expect he would choose Morning Dress." Of course, we've known that Markle and Harry would indeed wed in St George's Chapel for some time now, so this is the look I've been expecting to see him in.
And finally, we know for sure. This morning, Prince Harry arrived at his wedding in military uniform, but not the red one that William wore for his wedding. Kensington Palace confirmed in a statement this morning that Harry and William were both dressed in "the frockcoat uniform of the Blues and Royals." These slightly more dressed-down uniforms befitted the slightly toned-down aspect of Harry's ceremony.
Even more shocking, Harry broke with tradition and etiquette and wore a beard with his military uniform. It was a very cut-back beard that one might compare to George Michael's famous three-day scruff from the 1980s. But he was definitely sporting facial hair. His grandmother is probably silently disappointed in him. (She famously dislikes facial hair and wants Harry to shave.)
So what are the deets on this uniform Harry is wearing today? According to Kensington Palace, the Queen actually gave Prince Harry her blessing to wear the uniform, which was "tailored at Dege & Skinner on Savile Row." Prince William wore the same uniform, but his version is adorned with an elaborate gold braid, as well as his Knight of the Garter Star.
Harry's look is a huge departure from Prince William's wedding to Kate Middleton back in 2011. As some folks might remember, he wore a bright red uniform that was absolutely striking in the photographs beside Kate's look. That red uniform was the Irish Guards Mounted Officer's uniform. It was a deliberate choice, because even though the wedding is the bride's day, William will one day be the King of England. Therefore, he needs to stand out in the photographs as much as she does. Harry, on the other hand, will probably never be King, which means he can be more retired in his look, and let Meghan take the spotlight.